As the competition in a market goes fierce, the companies can't just confine themselves to boardrooms to make decisions about new commodity releases or else any improvements for better reach. These days it is quite hard to judge the expectations of the consumers.
So, the commodities these days are more consumer centric to cater to their needs inspite of their utopian views of the possible improvements in the commodities. Numerous surveys in various forms take place every day.
It is quite surprising to learn that consumers these days consider a brand conducting surveys to be quite caring for their requirements. About 60 percent feel pleased to buy from a brand that surveys their opinions, while more than half of them consider the brand to be loyal. Also four out of five perceive survey as a means of having discounts and free trails.
Perhaps may be due to the fact that six out of ten consumers take more than five minutes on a survey, almost 70% of the companies say that they actually respond to meet the expectations from the surveys.
Retail, banking, travel, communication and utility industries gain a lot from thesurveys while others may not receive the same level of benefit.
(Click on the Image For Full View)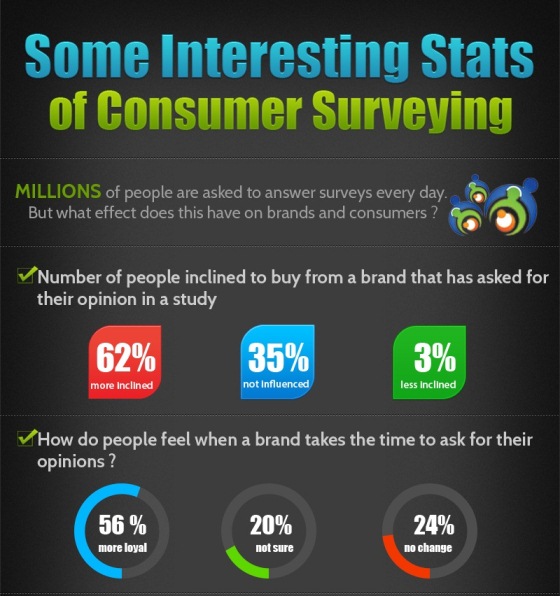 Source: samplesurvey
Related posts: