The 2013 Annual Claims Report provides critical industry statistics regarding: reported damage versus actual damage, recommended settlement actions, repair versus replace frequency, recommended repair action by category, and frequency of claims per geographic region. The data was compiled using the actual results of thousands of HVAC insurance claims investigations across the United States, and provides an accurate representation of the industry as a whole.
The 2013 report also suggests that HVAC claims represent a significant opportunity for insurance carriers who lack HVAC formal education or subject matter expertise to leverage third-party, objective investigations to improve their claims accuracy – particularly in light of ever-changing market influences, including equipment price fluctuations, regional labor rates, parts availability, and the looming EPA regulations on the use of R-22 refrigerant.
The next report, revealing statistics from the first half of 2013, will be released in the third quarter.
HVAC Investigators is the nation's leading provider of data and inspections for property insurance claims involving HVAC and Refrigeration equipment. The company provides timely inspections and actionable reports to help settle HVAC claims more quickly and with a higher degree of accuracy.
(Click on the Image For Full View)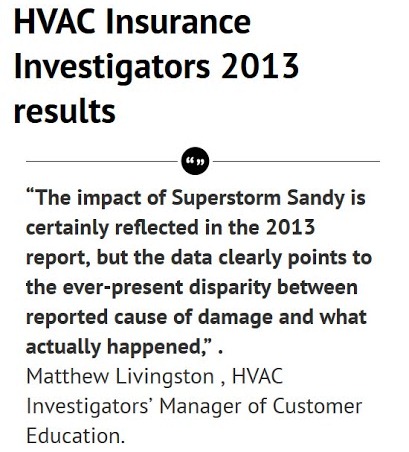 Source: hvacinvestigators
Related posts: