Electronic invoice (e-Invoice) is a service which involves exchange of invoice document between the suppliers and buyers in electronic form. Although e-invoicing has been in use for several years, there are some organizations, which prefer to use paper invoices. Use of paper invoice poses many problems and causes inconvenience to the accounting department. In this infographic, learn about how the adoption of e-invoice into businesses helps in improving productivity.
E-invoicing is an environmental friendly business practice. It saves time and resources that go into printing invoices and posting them. E-invoice content remains the same as that of paper invoice and it is acceptable as a source document in accounting.
Drawbacks of Paper Invoice
Intensive process goes into creating paper invoices and they often lead to human errors. About 12,000 paper invoices will be sent by a company each year. 8-10% of paper invoices contain mistakes. Errors that creep into paper invoices also cause disputes. Paper invoices make up 60-80% of office waste.
Benefits of e-invoice
 £18 billion can be saved by using e-invoicing.
 Improves accuracy of data.
 Cuts processing time.
  Enables discounts.
  Saves trees and postage money.
(Click on the Image For Full View)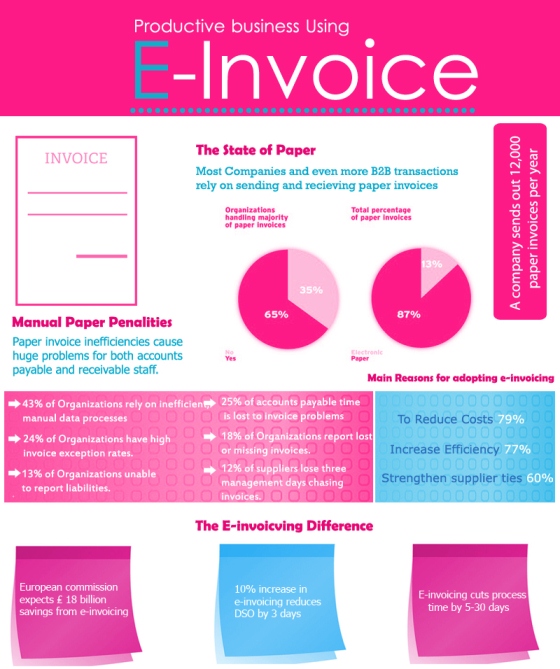 Source: invoice-template
Related posts: