Online jobs have become increasingly popular nowadays. People who are in this type of job consider it as an advantage when it comes to saving their telecommuting time as well as giving them an opportunity of spending more time with family at home.
Although online jobs are something most people would desire to achieve, there are aspects to consider with these type of jobs. For one, are online jobs really paid that well? Another thing to consider is what specific online jobs are currently popular and in demand?
To answer these types of questions, Staff.com has released an Infographic with data taken from the comparison of online jobs compiled by oDesk. Take a look at the top 4 in demand online jobs with their corresponding salaries from various countries. The salaries shown are the average asking rates at July 2013 based on the analysis of a few thousand workers on the odesk website.
From the image shown on the infographic, Web Development tops the most popular online job as listed by oDesk. Followed by Data Entry, Marketing and Iphone or Android Development jobs. Majority of the countries that pays highly on these job areas are US and UK.
So given the following data, would you be interested to follow the online job trend? Let us know what you think in the comments!
(Click on the image for full view)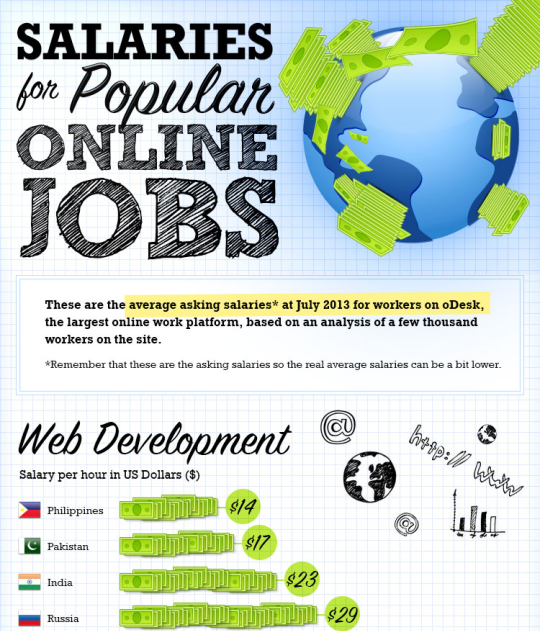 Source: staff.com
Related posts: