Employee leasing is a great staffing alternative, especially for small and medium-sized companies, as well as start-up firms. More often than not smaller companies are unable to give the same level of attention to human resource responsibilities when faced with more urgent and critical activities like income generation. These responsibilities which cover benefits, salary computation, records handling, recruitment and hiring can even fall on the wayside sometimes – a case that reflects many start-up companies' conditions.
There are various solutions to this dilemma, including working with leased employees. The idea is that client companies pay employee or staff leasing firms a regular fee for the services of their employees. Unlike most temp agencies, leased employees' specializations aren't restricted to usual administration tasks. Expertise can range from basic data entry or research roles to advanced web development and professional web and graphic design.
Learn how leasing staff came about, what some of your leasing options are, and how you can benefit. At Staffing and Leasing, for instance, we help you make the most of your resources by not only handling your leased employees' records and HR strings, but also providing them with any and all necessary equipment and infrastructure such as office space, a work station, high speed internet access, and necessary programs.
(Click on the image for full view)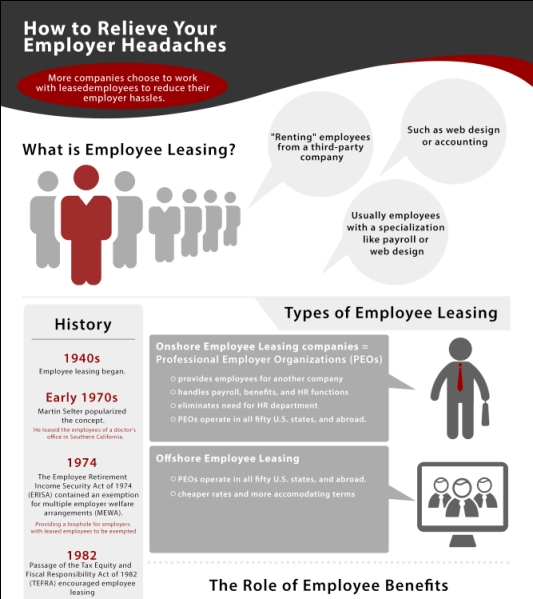 Source: StaffingandLeasing.com
Related posts: