The growth of the IT sector remains one of the more remarkable trends in the contemporary job market. With demand continuing to be on the rise in virtually every area of the industry, it has become easy for gifted developers to find well-compensated positions across the country.
Aside from the monetary aspect, this seller's market also ensures that developers benefit from a greater amount of flexibility when it comes to choosing their employers. In fact, adding to the agreed-upon salary, many companies offer a sign-on bonus in order to seal the deal with the employees they want.
What's more, prediction experts all agree that salaries in the IT industry will continue to grow in the foreseeable future. Right now, an entry-level professional can earn anywhere from A$48,000 as a Support Technician to A$90,000 as an IT Manager. Meanwhile, Web and graphic designers can expect to be compensated around A$51,000 for their work.
Salaries can significantly increase according to the level of experience the candidate possesses, as well as his or her capability to stay up to date with all the new developments in the field. For example, the IT Manager position can even top A$160,000 if the candidate meets the requisite soft and hard skills for the position.
In fact, most top-rated professionals in the IT industry can eventually command six-figure salaries at a senior level, including Web Designers (A$120,000), Web Developers (A$126,000), Business Analysts (A$157,000) and Project Managers (A$180,000).
(Click on the image for full view)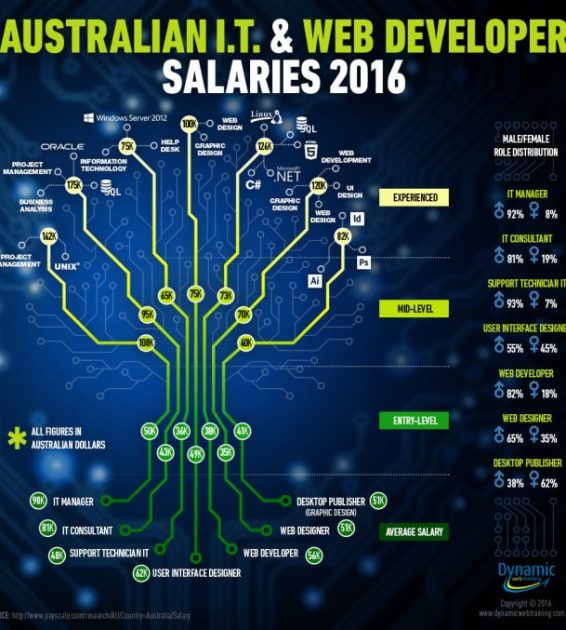 Source: dynamicwebtraining
Related posts: