Before the 1990-th, we had Education 1.0. The edge of millenniums passed under the sign of Education 2.0. Nowadays, we are entering the era of Education 3.0 marked by the revolutionary combination of the Internet and the Mobile. Our children are being affected by these changes above everyone else.
They start to operate mobile gadgets, use educational apps and visit kids learning websites even before being able to walk. Only yesterday they were prohibited to use their hi-tech gadgets in classrooms; today schools hand them out smartphones and tablets and recruit to online learning programs for a broad range of subjects.
Ultimately, the most prominent features of Education 3.0 are:
1. Online learning lets you study anything, anywhere or on the go;
2. Wide adoption of technology;
3. Low costs – there are hundreds of cheap handheld devices and free learning resources;
4. Eliminated boundaries between disciplines, institutions, nations;
5. Students are partly teachers as the teaching is done teacher to student, student to student, student to teacher.
As a result, education nowadays becomes something that modern children literally walk around with in their pocket. Parents must not stay aside from this fundamental shift. They should learn how to use technology to their kids' benefits including boosting their education.
The infographic below highlights 10 best ways to use smartphones and tablets for educational purposes in schools and at home. It also contains the list of the most helpful learning apps and online resources that will help you to raise a real genius in our mobile and all-connected era.
(Click on the image for full view)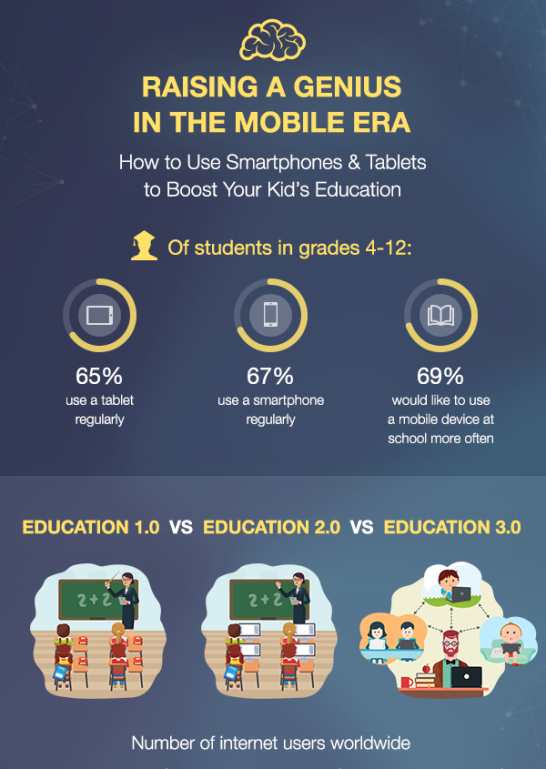 Source: pumpic
Related posts: