The following article provides details regarding the top certificate degrees, Universities, courses and others in US.
There are various types of certificate degrees in America and top 10 includes Medical assistant, Vocational Nurse Training (LPN, LVN, CERT, DIPL, AAS), Cosmetology General, Patient Care Assistant, Automobile Technician, Emergency Medical Technology, Massage Therapy, Welder, Truck and Bus Driver and Dental Assistant.
When it comes to universities in US, the top 10 name includes Harvard University, Princeton University, Yale University, Massachusetts Institute of Technology, Stanford University, California Institute of Technology, University of Pennsylvania, Columbia University, Duke University and University of Chicago.
Various courses are on demand in USA and the list of top 10 includes Engineering, MBA, PHD, IT and Allied Fields, Sports Management, Computer Science, Electrical Engineering, Biotechnology, Physiotherapy and Hospitality.
Large amount of money is spent by various different countries on education. US spend around $809.6 Billion annually whereas spending of Canada is around $65.4 billion.  Mexico spends $74.9 billion, UK $122.6 billion, South Korea $61.6 billion, Russia $86.9 billion Japan $160.5 billion and Australia $41.8 billion annually.
Between the years 1970 to 2009, the rate of the adults who hold the post secondary credentials have increased from 11% to 30%.  In the year 2009, out of the total adult population in US, 1.1% has obtained the degree of doctorate.
(Click on the Image For Full View)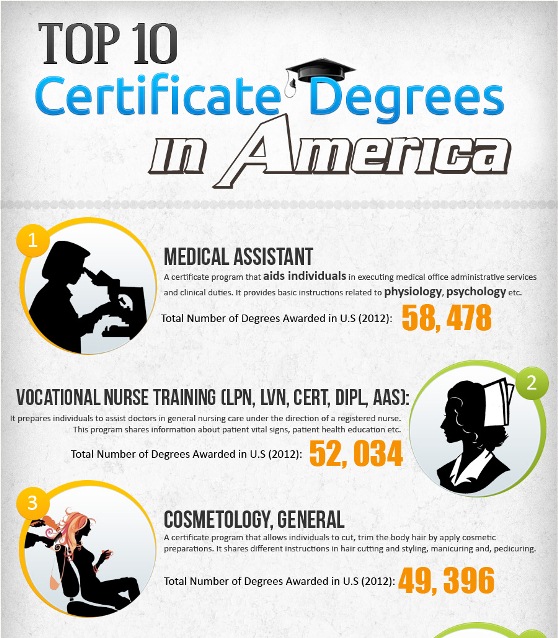 Source: certificaterequirements
Related posts: