We don't tend to think of things that aren't affecting us directly. That is why we don't pay enough attention to CO2 pollution, destroying new species and entire forests, making things worse everyday. Sure, we think, the state of problem is exaggerated, and it's all just a media hysteria. Well, it's not. That's why PDF Expert team has come up with some shocking facts about the ways people destroy nature (without even knowing) and how you can start fighting that in your company right now. To make it simpler, we took an average american company of up to 30 employees.
Portable Document Format is now more than 25 years old, and it's both good and polished enough to allow people forget about their paper documentation forever. Teachers and students, sales representatives, construction managers, pilots and health workers — everyone can take advantage of using PDF documents in everyday life.
You can use it to:
– Read articles;
– Annotate presentations;
– Make assignments;
– Fill out forms;
– Merge documents;
– Edit invoices;
– Sign contracts;
– Shrink PDFs;
– Collaborate with colleagues;
– Study documentation;
You can find all of the above in PDF Expert – fast, robust and beautiful PDFEditor and viewer.
Let's start saving nature with small things, or someday our grandchildren won't even know what tree is. It's never too late to turn things around.
(Click on the image for full view)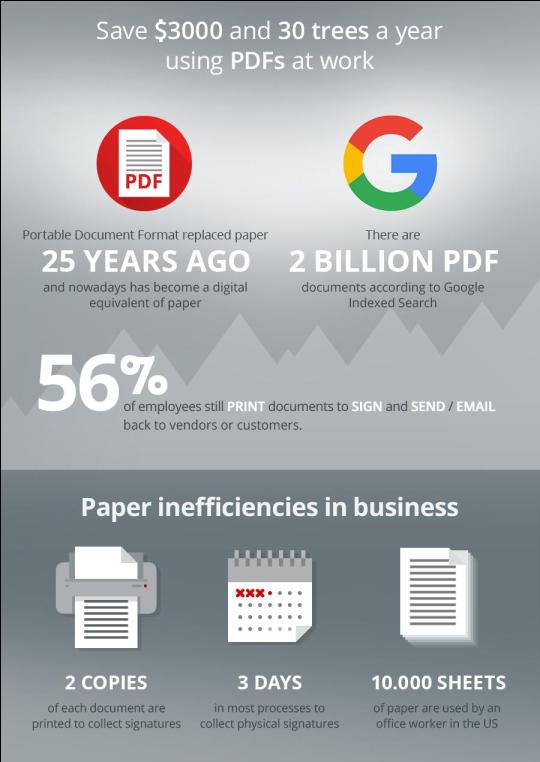 Source: pdfexpert
Related posts: