Home selling is no easy task and potential home sellers should consider a number of factors before placing their homes in the market. Home improvement is thus inevitable especially for people who want to sell their houses fast. Some of the areas to be improved in order to increase home value are the kitchen, bathroom and roofing.
The first step of increasing home value is, cleaning up. Getting rid of clutter increases home value by 7%. Cleaning should not be confined indoors, outdoors should be considered too. Cleaning indoors allows the potential home buyer to make use of the space while cleaning outdoors creates room for entertaining family and friends. You should also consider landscaping to enhance the home's appearance hence increasing home value. The rooms that are commonly used in a house are the kitchen and bathroom.
These rooms require a face lift which can be achieved through changing the floor, fittings or appliances. The front door needs to be replaced to attract high prices since it creates the first impression of what is in the house. Real estate experts argue that a steel front door increases the home value. The garage door should also be replaced by an aluminium or wooden door. This increases the home value by 5%. Moreover, all rooms should be painter to make the house appear new and create a theme for each room. The exterior of the house should be enhanced by painting.
The roof of a house should be replaced with a new one before considering selling the home. One sure way of adding value to the roof is through adding solar panels. Solar panels are environment friendly and they cut down electricity costs.
Before placing your home on the market, consider making the changes mentioned in this infographic. This will increase the selling price of your home.
(Click on the image for full view)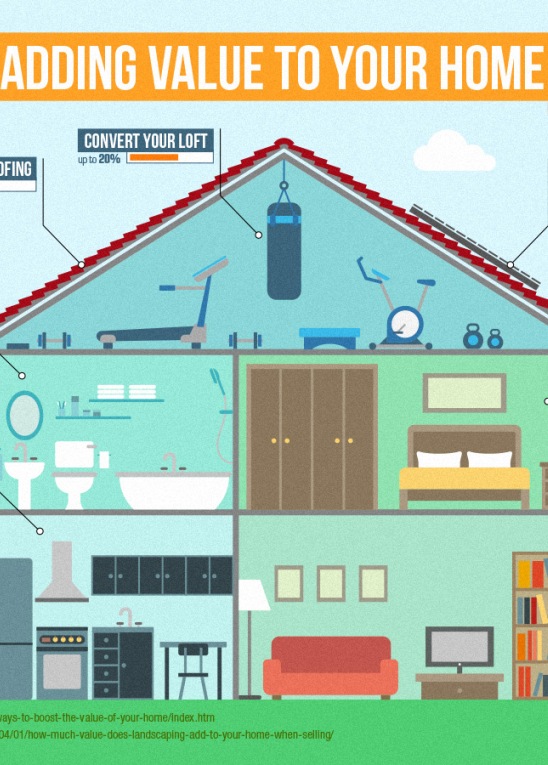 Source: renovationkingdom
Related posts: