InStyleModern gives a guide to those who want to "steal" the look of CNN news anchor Anderson Cooper's Manhattan Penthouse…but at a fraction of the original cost.
A picture of the celebrity's tastefully-done living room with a white and neutral palette dominates the first half of the infographic. A white L-shaped sofa takes pride of place in the room, flanked by natural-colored rounded accent tables. Simple Lustron light fixtures add illumination to a naturally sunny room. The overall look is sleek, minimalist, quietly sophisticated, and very easy on the eyes.
The second part of the infographic shares affordable ways to replicate the look of Anderson Cooper's living room with select pieces of modern reproduction home furniture and accessories. Samples include an Arco Coster lamp in lieu of a Lustron floor lamp, an Eero Saarinen Style tulip end table, and a Guns Modern sectional sofa instead of the expensive ones found in the celebrity's abode.
 (Click on the Image For Full View)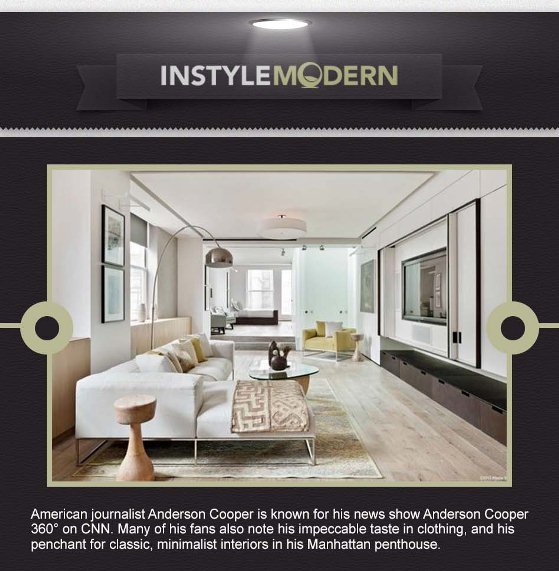 Source: instylemodern
Related posts: