Wonder how the houses of famous personalities look like? Wonder if you could imitate these otherwise fancy and expensive home interior details? It is about time to feed your healthy curiosity. Here is Get the Look—an infographic primarily created to showcase the most intimate spaces of celebrities, and to present practical options for homeowners who are in the process of kickstarting their very own home improvement projects. Get the Look # 3 zeroes in on Ralph Lauren's kitchen aesthetics.
Ralph Lauren's kitchen, as pictured below, is heavily influenced by the designer's apparent penchant for no-nonsense details. What we have here is a practical kitchen space which nonetheless achieves a classic and charming appearance. Ralph Lauren's chosen kitchen staples include two wire side chairs, an unassuming 2-door pantry with built in oven, a table in solid block structure, and a black platter and a clear glass flower vase for accents.
After carefully reviewing the product catalog of Instylemodern.com and Wayfair.com, we present some affordable alternatives that closely resemble Ralph Lauren's kitchen staples. These products can be had for less than $400 dollars; they can easily cater to the needs of even the most budget conscious of shoppers out there. Most importantly, these products are quite like the real thing. Indeed, to Get that Look shouldn't too hard.
(Click on the Image For Full View)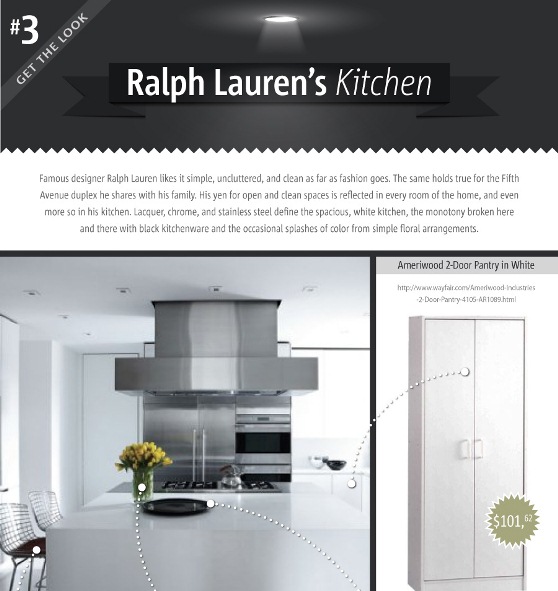 Source: instylemodern
Related posts: