This August marks the 100th anniversary of the National Park Service. It was created by an act of Congress, which was signed by President Woodrow Wilson on August 25, 1916. The best way to celebrate this milestone is to explore all of the natural wonders of our gorgeous countryside. The United States is filled with ample wildlife, beautiful geography and amazing ecosystems. The Natural Park Service helps the general public enjoy both national parks and monuments that are awe-inspiring—like Yellowstone National Park…and even the Statue of Liberty.
You see, the National Park System (which has 22,000 national park employees and 221,000 volunteers) covers over 84 million acres, which includes over 25 battlefields & military parks, 59 national parks, 81 national monuments, 128 historical parks & sites, etc. Delaware is the only state without a national park OR a national monument. Each year, more people visit these different sites. In 2015 alone, there were over 307 million recreational visits. So which parks are the most popular? They include the: Great Smoky Mountain, Grand Canyon, Rocky Mountain, Yosemite, Yellowstone, and a few others.
Want to explore the largest park? Then go to the Wrangell-St. Elias National Park and Preserve, which has over 13 million acres. If you want to check out the smallest national park, then just head over to the Thaddeus Koscuiszko National Memorial, which only has 0.02 acres.
It's time to explore the U.S.! And while you do, ADT monitoring systems can help protect your home while you are away.
(Click on the image for full view)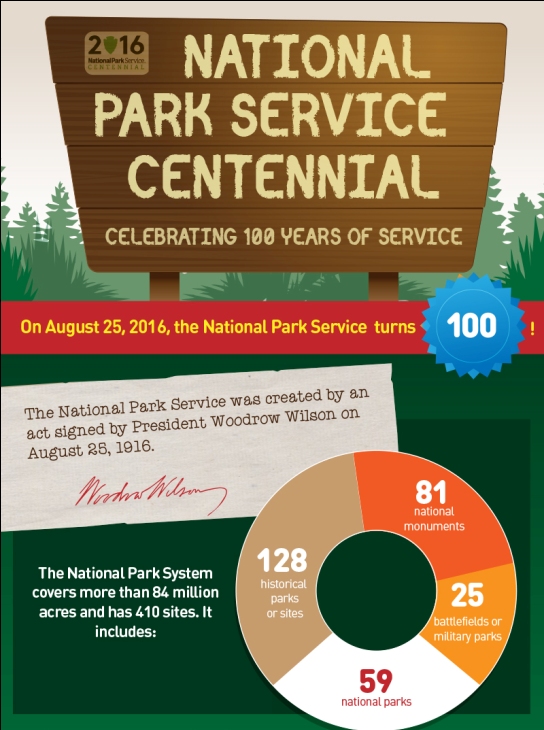 Source: choosehomesecurity
Related posts: