There was a time when Meg Ryan was widely considered as America's sweetheart, churning out box-office successes one after another, gracing the covers of popular fashion and lifestyle magazines, and appearing regularly on high rating TV shows. In recent years, though, this certified A-lister has become a bit of a recluse, opting for a more private life in lieu of the oftentimes glaring Hollywood spotlight. Nonetheless, for her ardent fans, Meg Ryan stays as the penultimate movie star. If you are one of this actress' loyal followers, here is one intimate way to keep up with your idol.
Instylemodern launches its second take on the well received Get the Look infographic. This time around, the infographic zeroes in on Meg Ryan's bedroom, giving her fans, as well as interior design enthusiasts in general, helpful options on how to emulate this star's simple yet elegant bedroom style.
Meg Ryan's bedroom design choices very much mirror her public persona: radiant, relaxed, and refreshing. Her bedroom is stuffed with mostly practical furniture pieces which, despite their apparent simplicity, still exemplify high aesthetic standards. Meg Ryan's bedroom staples include a spacious platform bed, simple hanging lamp, antique-inspired two-door cabinet, comfy ottoman, and a wood-framed rustic-looking mirror. These pieces were obviously culled from the catalog of high-end furniture designers, but there is no need to fret. With ample creativity and persistence—in terms of looking for perfect replicas—this A-list bedroom interior can easily be achieved within a realistic budget. As what has been proven by this infographic.
Instylemodern carefully searched the various offerings of interior design suppliers in order to come with its very own version of Meg Ryan's bedroom. The final output includes items from Wayfair.com as well as from Instylemodern's own listings: the result is undeniably a bedroom fit for the stars.
(Click on the Image For Full View)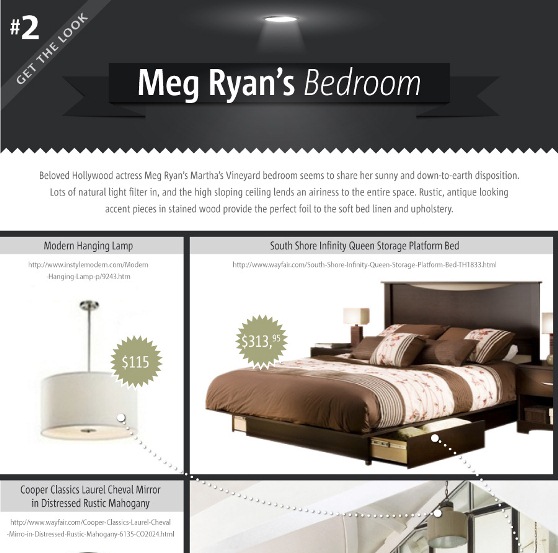 Source: instylemodern
Related posts: