Marriage is sadly not always for life. When a marriage breaks down, for whatever reason and if divorce mediation fails sometimes a financial settlement is the only option. Hollywood stars, famous sports players and even billionaires must too deal with the strain of divorce and often are involved in huge financial settlements.
Being extremely wealthy very rarely seems to be a problem, except if you are in the process of getting divorced – the net worth of these couples only complicates matters further during divorce proceedings along with other factors such as differences in international law, the grounds of divorce and whether or not they couple had an official pre-nuptial agreement.
Some of the most expensive divorce settlements ever deal with millions and even billions of dollars. Some couples however, take the precautionary measure of signing a pre-nuptial agreement. Many couples are against doing this as they feel it might undermine their marriage vows whereas other couples just feel it is a rational practicality.
Couples like Nicole Kidman and Keith Urban have no drugs clause, as Urban was a former substance abuser. The late Michael Jackson and his ex-wife Debbie Rowe had an agreement revolving around visitation rights to their two children and not speaking to the press about their private lives. A pre-nuptial agreement can be drawn up on any understanding as long as both couples agree.
Some of the most expensive divorce settlements in history have not exclusively revolved around financial settlements but also the division of assets. For someone like Media Tycoon Rupert Murdoch who's assets include a Beverly Hills Villa, a London Mayfair apartment, a Vertigo Yacht and a Gulfstream 550 private jet to name but a few you can imagine how much more complicated a divorce settlement becomes. These millionaires and billionaires have gone through some of the most expensive divorce settlements to date but with many re-marrying it obviously hasn't turned them off finding true love.
(Click on the image for full view)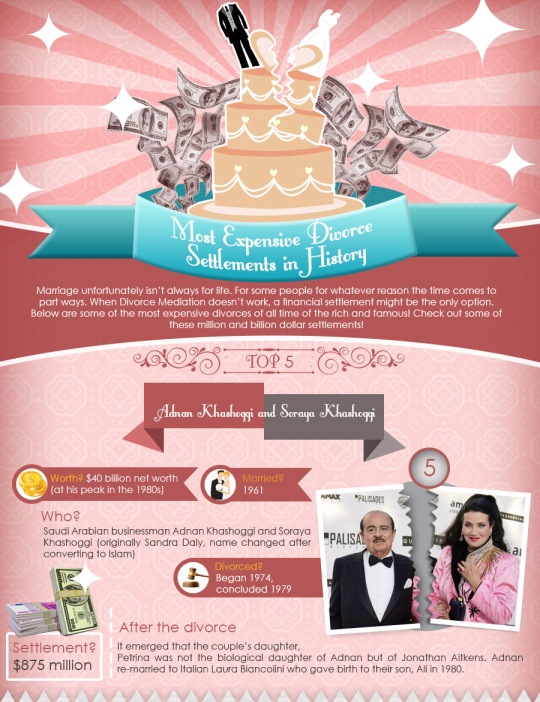 Source: thedivorcecompany
Related posts: