Here, in the infographic, we tried to portray all the specifications of both devices; Moto G and Canvas 4, which will help you to choose the best one. Both Smartphones come in the Rs. 14000/ category and equipped with high class features.
The 'Moto G' device broke all the records of phone selling and achieved a new altitude in the Smartphone industry whereas Micromax is also ahead in the competition of the medium range phones.
Micromax Canvas 4 is packed with 5 inch IPS display, whereas Moto G comes with 4.5 inch IPS display. Both devices are powered by Quad core 1.2 GHz Cortex A7 processor along with 1 GB of RAM.
If we check battery and connectivity options of both handsets, we will get almost similar specs in both devices, but storage variation can be seen easily in the handsets.
It can be said biggest feature of Moto G that it runs on Android 4.4 Kikat OS, whereas the canvas 4 runs on old OS Android 4.2 jelly bean. It is generation difference between both phones and you will better recognize after seeing the infographic.
(Click on the image for full view)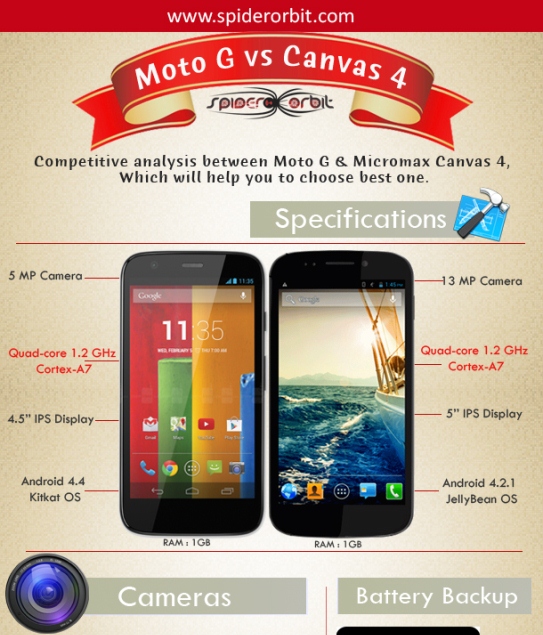 Source: spiderorbit
Related posts: