This information aims to challenge the notion that playing music is not a real job by illustrating the annual revenue of three up-and-coming fulltime Seattle musicians and how they do it on music alone. The goal is to inspire musicians to give up their days jobs. There are six primary areas in which musicians bring in income. The musicians also gave some tips on how to have the best success in each category:
1. Licensing and Publishing – Send out a monthly digital newsletter of your music to music supervisors with new songs ready for licensing.
2. Music Sales – You and your fans give away one free song on social media platforms to hook folks to buy more songs.
3. Merchandise Sales – You will increase merchandise sales by over 50% if you're sitting at the table where the goods are being sold.
4. Live Performances – Don't dismiss the earning potential of busking. Musicians at Sea-Tac Airport and the Pike Place Market are averaging over $100/hour in tips.
5. Studio Work – Make friends with people in the tech world who need music scored for game or app development.
6. Instruction – Do group lessons and get the biggest paycheck for your time.
The take away is that if you want to make it as a musician, you need to have a business strategy for a majority of these revenue streams, if not all of them.
 (Click on the Image For Full View)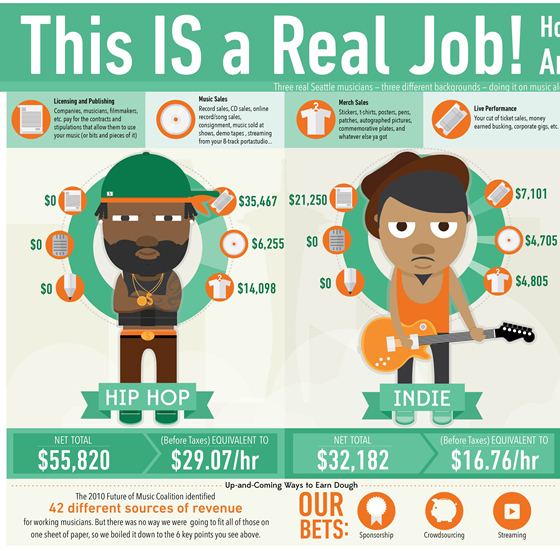 Source: seattlefilmandmusic
Related posts: