13 Emerging Bands for 2013
We investigated the social growth of 13 forthcoming bands through facebook, twitter and YouTube to pick the top 3 we believe will be a big sensation in 2013. This infographic was very fun to produce, it is all hand drawn illustration and fonts.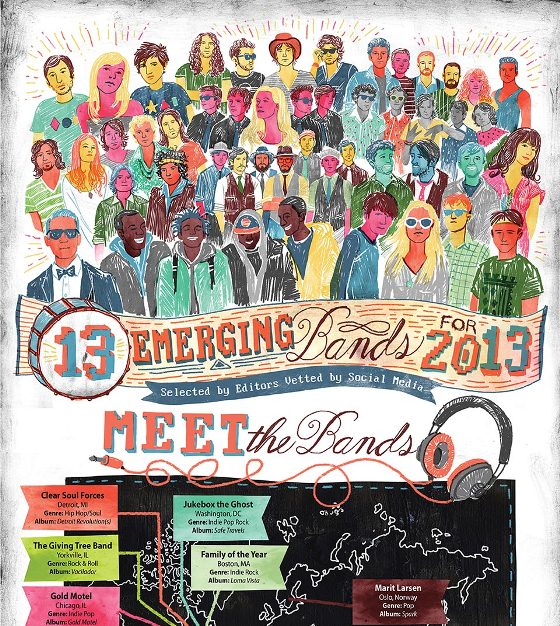 Source: sonicbids
2013 Music Blog Guide
2013 is set to be another great year for music, so we asked a number of prominent music bloggers to give their top tips for the year ahead. Just for good measure, we've also included the most blogged about artists of the previous year.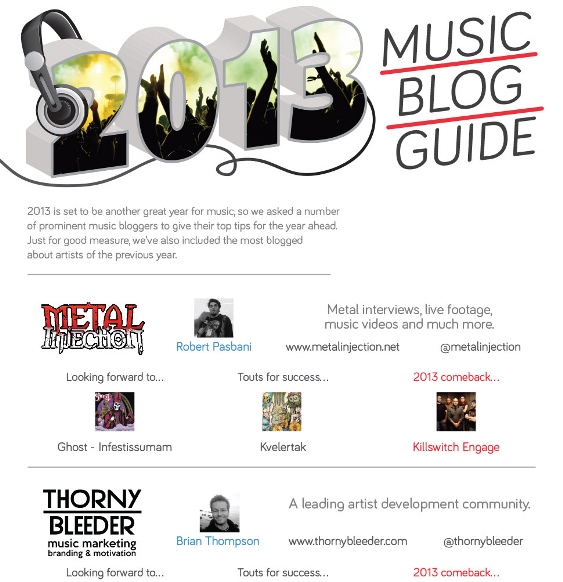 Source: clickitticket
Musical Legends of Seattle
Musical Legends of Seattle highpoints 8 groups that all started in seattle and rose to abundant heights during their career.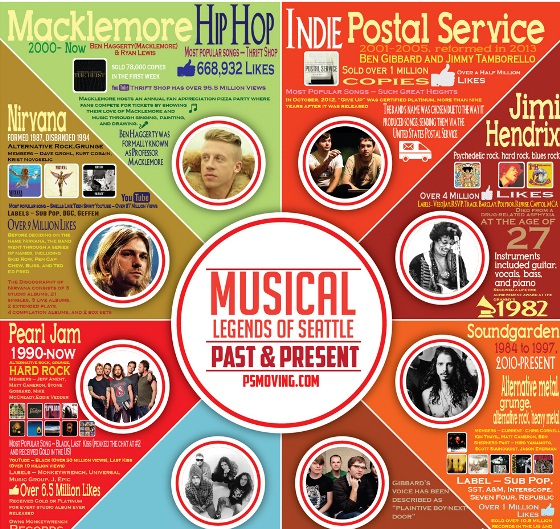 Source: psmoving
The State of the Mobile Music Industry
In 2012 73 billion mobile apps downloaded, $429 million made from music apps in the U.S. and 1.3 billion digital music track sales.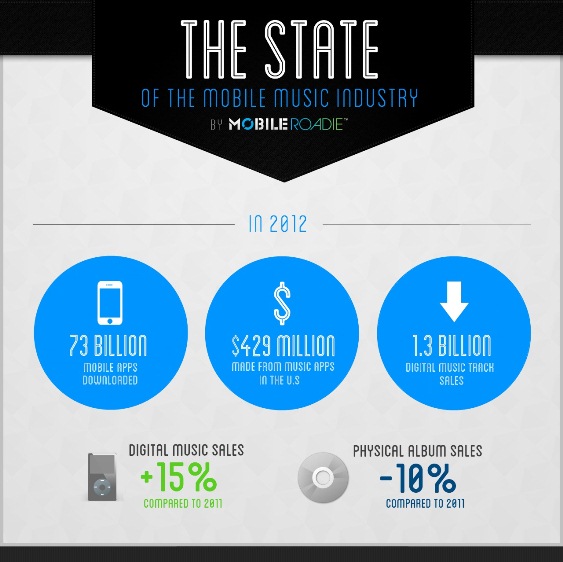 Source: mobileroadie
10 Reasons why Buying Music is better than a Cup of Coffee
A take on why buying music is better than a cup of coffee. People, who produce music, actually get paid unlike coffee where the farm people get a penny for every dollar you pay. Music works better than coffee to help you work.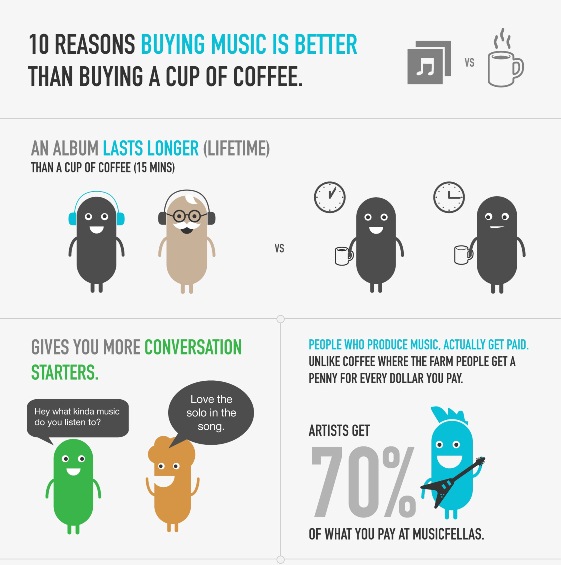 Source: musicfellas
The Indian Rock Scene
Like western rock musicians of the time. Indian musicians also began fusing rock with traditional Indian music from the mid-1960s onwards. Many of these songs were often filmy songs produced for popular Bollywood films, which often overshadowed the country independent rock scene.
Source: visual
The Evolution of Song Storage
Since the turn of the 20th century, we've seen recorded music stored in different formats and technologies. Taken a look at the timeline below!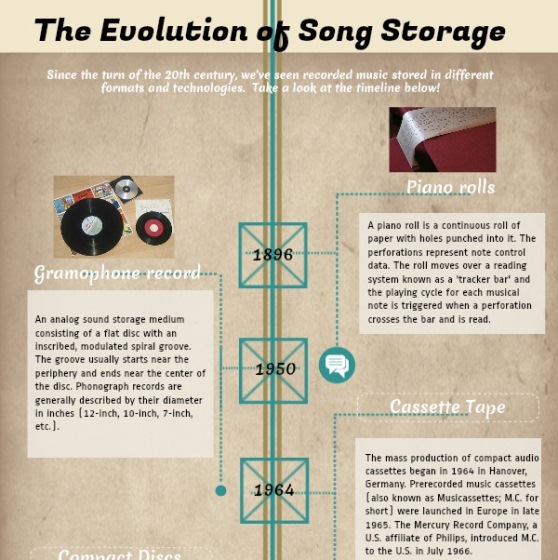 Source: axiomaudio
The Rise of the Rock Festival
With the festival season well underway, millions of fans around the world are loading up their tents and coolers and shelling out cash to travel to the top parties of the summer. From ancient Greece to Lollapalooza, get a look at some of the biggest music festivals in the world, the current trends in festival attendance, a portrait of the typical festival-goer, and a look at what happens when music festivals go wrong.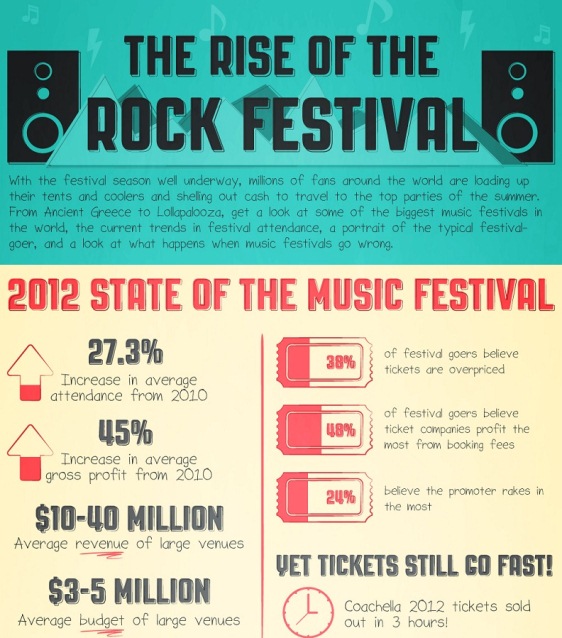 Source: equipsupply
Music makes you Smarter
Even if you don't always notice it, music is all around us—from the stereo in your car to the music piped in at the supermarket. Studies show that music has a wide array of benefits to your health. Whether you're listening or, better yet, playing, music can have a great impact on your mind.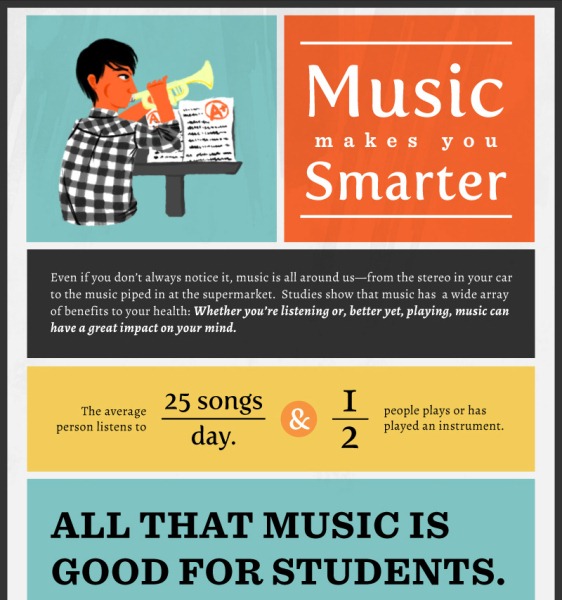 Source: onlinecollege
Beatles Albums over the Years
The Beatles first studio album, Please Please Me, was released in the United Kingdom on 22 March 1963. Who would have believed that 50 years later the band would be revered and loved the way they are today? But the proof is in the pudding: each of the Beatles albums sold extremely well, indicating that they must have been doing something right. And the lineage of well-selling records continued long after the Beatles broke up – as John, Paul, George, and Ringo all released their own studio albums.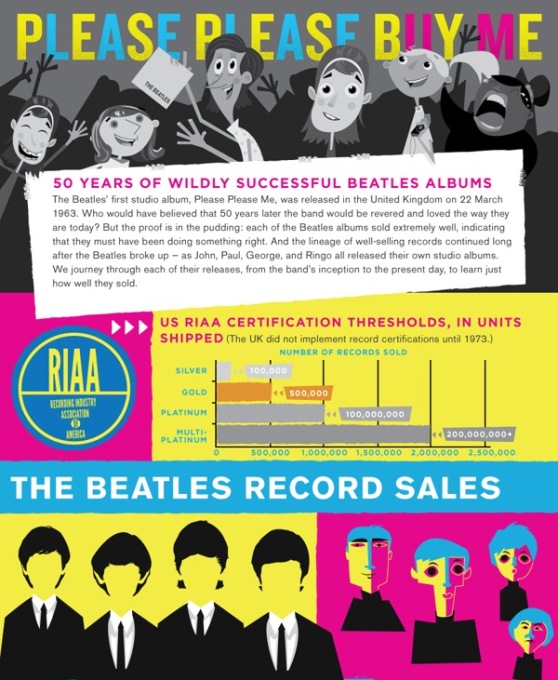 Source: confused
Related posts: