Great Britain's Paralympic Medals 1960-2008
Paralympics preview data visualization I planned for the Press Association graphics department, contained on the Guardian Datablog. The visualization charts Great Britain's Paralympic medals, team numbers, medal standing and team gender.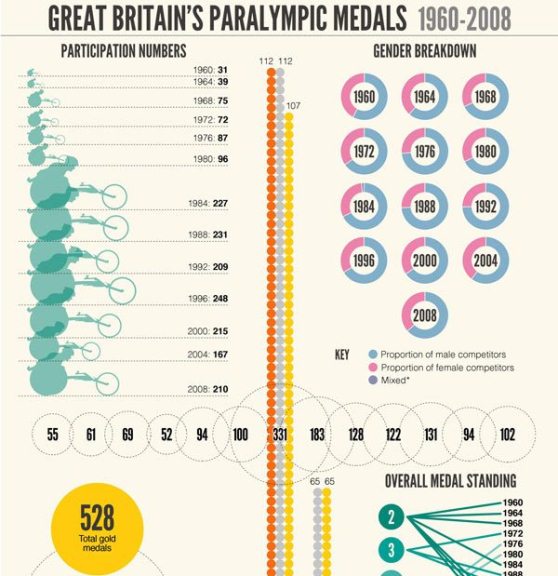 Source: paralympic
Jamaica's Olympic Champions
Were you watching the 2012 Olympics in London this past summer? One thing that raised out in the Olympic festivities were the amazing Jamaican athletes who represented their country proudly. Since the 1948 games in London, Jamaica has been very successful in the medal counts, and has only gotten better with time.
Source: couples
London 2012 – An Unexpected TV Success
The 2012 London Olympics were the most watched TV events in U.S. TV history. NBC'S coverage reached 219.4 million Americans over the three weeks of the games. NBC's controversial decision to tape-delay most of its coverage due to the time difference did not hurt ratings as badly as predicted.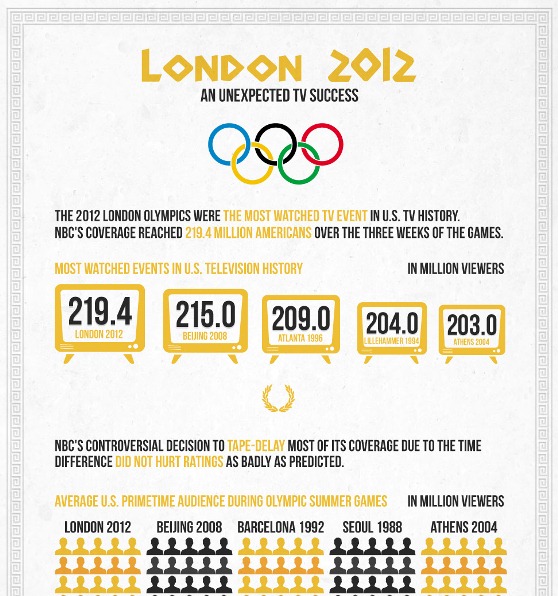 Source: statista
UK vs Abroad – Why you should escape the UK this Olympics
Price is for one person, but is based on two people sharing. Prices abroad include return flights from London and hold luggage, hotel price in UK is for hotel only. All prices are correct at time of writing and are subject to availability. All hotels are 4 bed and breakfast.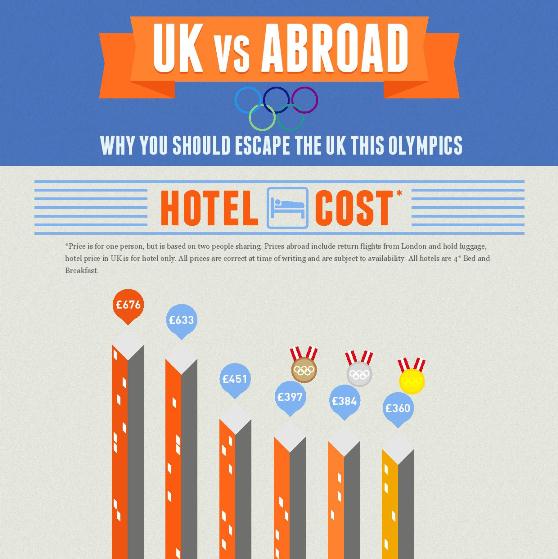 Source: visual
The Olympic Medallion
In ancient Olympiads, winning athletes were awarded the olive wreaths as prizes. And it was in 1896 when the awarding of medals began. But did you know that gold medals were not given during inaugural game? Instead, winners received a silver medal and an olive branch, and runners-up a bronze medal and a laurel branch. During the 1900 Olympics, most winners received trophies instead of medals.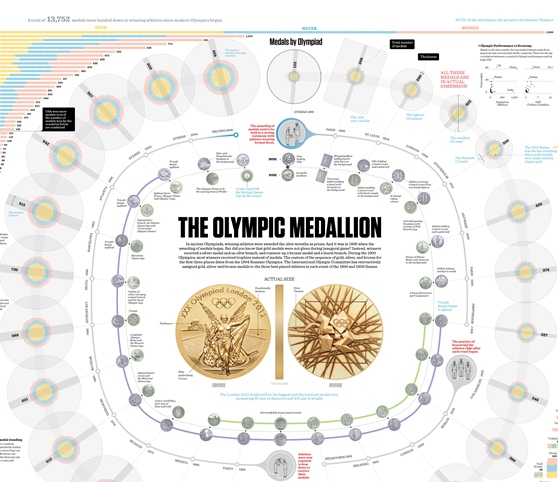 Source: newspagedesigner
Related posts: