Cardprinting.us understands the complexity of design principles, and the misleading simplicity of their application. Being a stakeholder in the industy, Cardprinting.us unwaveringly fosters the advancement of the art and science of graphic design, thus, its consistent effort to provide valuable and interesting graphic-design related online materials for the consumption of not only ardent graphic designers, but also, netizens who wish to learn a thing or two about this popular artwork. Such is this infographic entitled Design Deluge: Trends that Forever Altered Design Topography.
Design Deluge zeroes in on the rich and multifaceted history of graphic design. This infographic lists down eight design breakthroughs that have made substantial impact on the practice of print design. These breakthroughs include pictograms, tattoos, white space, texts as image, decorative logotypes, dust jackets, suprematism, pointing finger, and symbolic typefaces. Each of these has truly made a significant dent, a mark, or an impression on the surface of graphic design principles and practices.
And with that said, it is worth poring over these novelties from the past, for the purpose of gaining conceptual references relating to why design is what and how it is now. Moreover, knowing these factoids allows us to map the present state of design, and potentially foresee the path to which it is most likely heading.Just as interesting, engaging, and novel as the design trends it celebrates, Design Deluge is an infographic each and every design artist and enthusiast should soak in. After all, knowing more about one's art is part of creative progress.
(Click on the Image For Full View)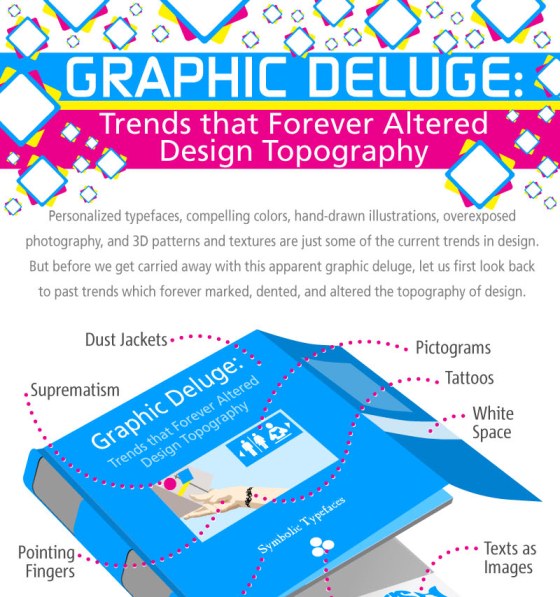 Source: cardprinting
Related posts: