Texting While Driving Statistics
Over half of teenage drivers admit to texting or emailing while driving. Nineteen states and the District of Columbia now ban text messaging for all drivers. Another nine prohibit text messaging by novice drivers.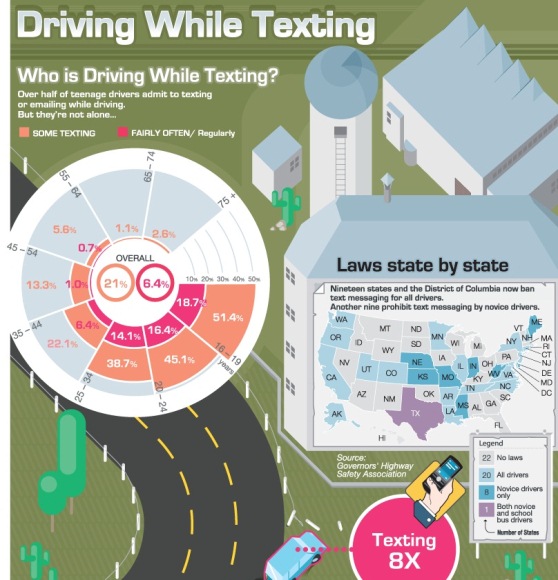 Source: allenandallen
Driving While Intexticated
In 2011, at least 23% of auto collisions involved cell phones. The minimal amount of time your attention is taken away from the road when you're texting and driving. If you're traveling at 55mph, this equals driving the length of a football field without looking at the road.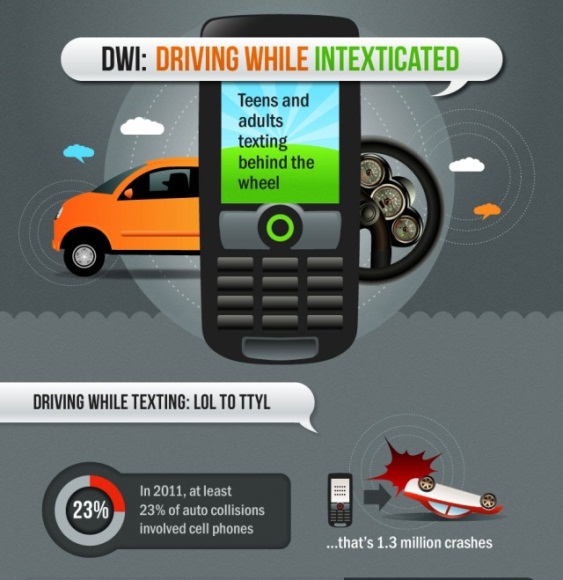 Source: onlineschools
The Dangers of Texting While Driving
It takes only seconds to send a text. That may not seem like a long time, but when your eyes are off the road and focused on your phone, the consequences can be deadly.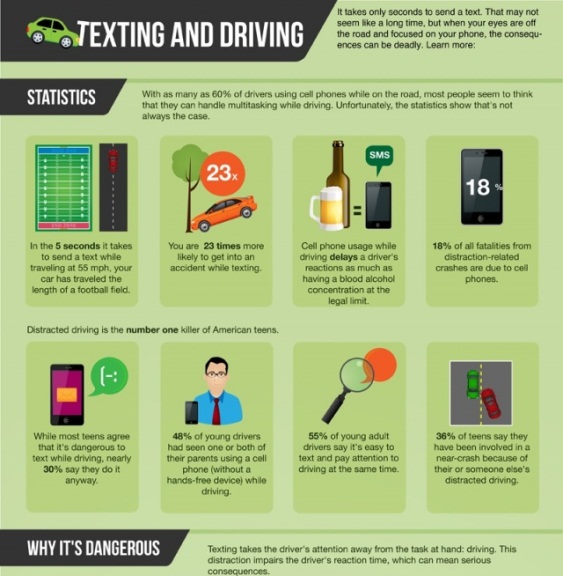 Source: carinsurance
Texting While Driving is Very Dangers
55% of young adults are confident they are good at texting while driving, 77% say its really easy! 13% of accidents by 18-20 years old are due to texting while driving.
Source: bgs
Driving While Texting: More Likely to Cause Crash than DUI
The effects of distracted driving studies indicate texting while driving impairs a driver's reaction time much more than driving under the influence. A car and driver study compared the distance required to stop while driving 35mph.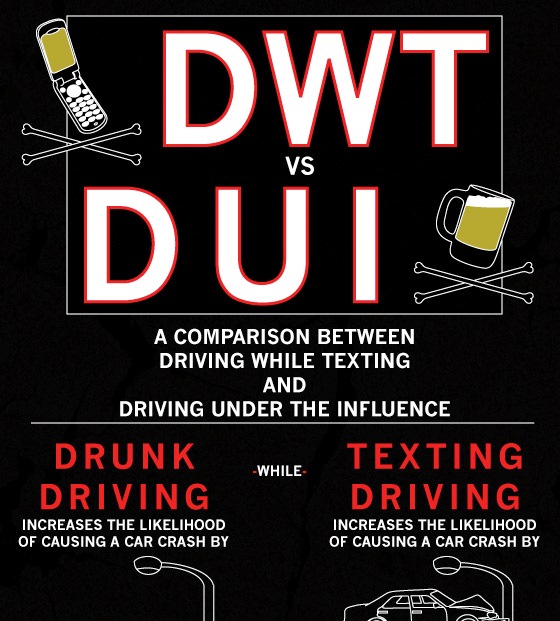 Source: viraleruption
Cell Phones and Driving
Texting  is the most dangerous distraction because it requires 3 of the primary degrees of attention required to drive safely, visual, manual, and cognitive. Did you know that driving and using a cellphone or a hand held device has the same effect as the blood alcohol limit of .08 percent?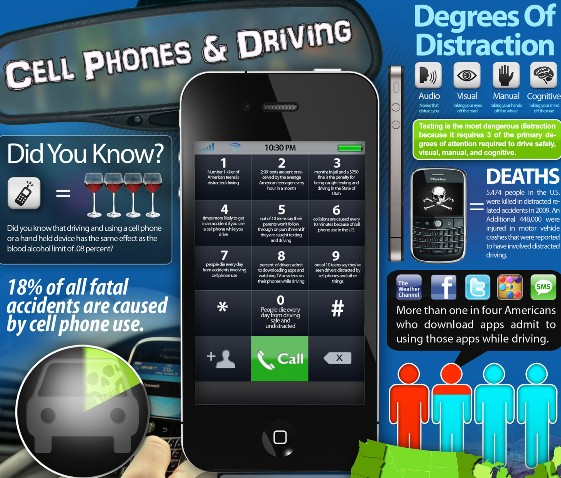 Source: techtv101
Saving Lives: One Employee at a Time
Cell phones are the number one distraction in a vehicle and pose risks to the safety of employees. Let's take a look at the hard facts about distracted driving, the risks, and the measures companies are taking to protect workers.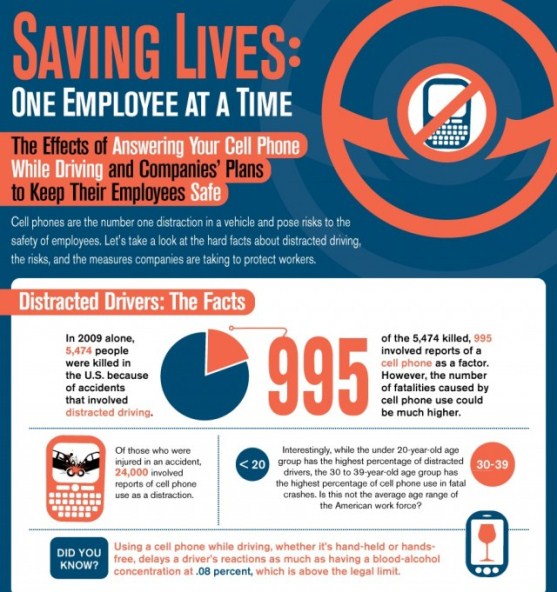 Source: thecarconnection
Moral Hazards of Motoring Muddled
It's probably a sign of the times, but the more gadgets we get the more distractions we feel we can juggle (even while behind the wheel). But what is the true deadly cost of distracted driving?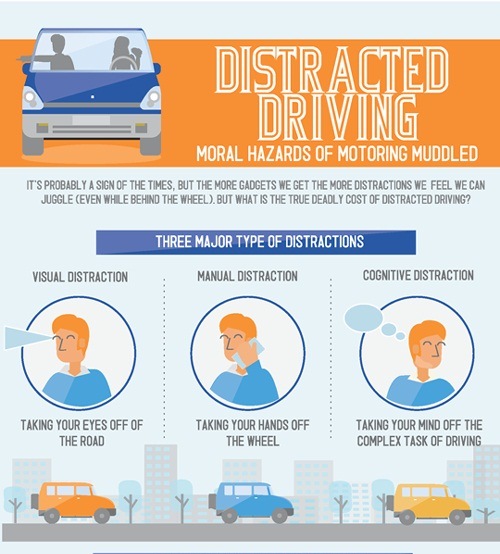 Source: ifaauto
Car Accident Statistics
Car accidents continue to be one of the greatest threats to Americans, accounting for more accidental deaths than any other factor but drug poisoning. When operating a car, a driver assumes an implied responsibility for the safety of their passengers and other motorists on the road, but unfortunately, many drivers fail to upload safe driving practices.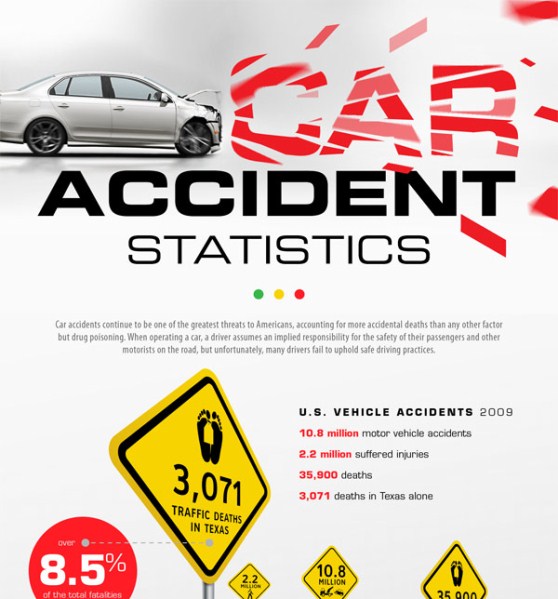 Source: netdna
Fatal Crashes Involving Young Drivers in Washington
On Washington roadways, there were 1,003 fatal crashes involving a driver aged 16-25. These crashes resulted in a total of 1,142 deaths, which is an average of 228 deaths per year. This accounts for approximately 39% of all traffic deaths during the five-year period.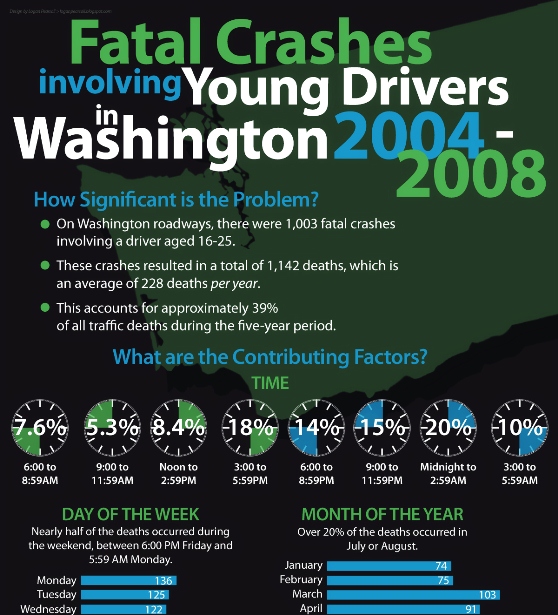 Source: injurytraillawyer
Related posts: