Emails are used all across the globe as the most popular way of communication. There are various interesting statistics related to the use and security of emails.
It has been stated by around 25% of the people that they send an email at late night just to show their commitment. 57% of the people spend half of their working day on the mails while 39% send and read mails regularly outside the work.
It is believed by 49% of the people that need for file storage and its use if reducing due to emails. 35% of the people open their emails on the basis of subject line alone and around 90% of the sent mails are spam.
It has been seen that 17% of the Americans create a new mail id in every 6 months while 30% of the subscribers change their address annually. Mails are checked on mobile phones by 35% of the business professionals while 43% of the mobile mail users check their mails for over 4 times in a day.
If we consider the emails to be 1mm of envelope and arrange all the envelopes vertically then they will reach a height of 294,000 Km. In terms of email usage, APAC is the biggest region in the world with 47% followed by Europe with 23%. Next in the list is North America with 14% and Rest of the World with 16%.
 (Click on the Image For Full View)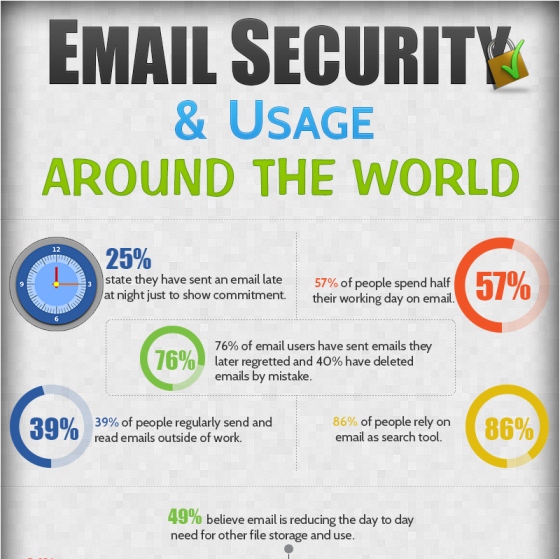 Source: sampleemails
Related posts: