Cell phones have become an indispensable part of life for people all across the globe. Though cell phones have various benefits but studies have shown that it poses various health risks as well. It has been found that there are around 5 billion of cell phone subscribers all across the globe and as per the year 2010 out of this 303 million are in USA itself.
The statistics shows that 66% of the people carry their phone with them at lunch, 37% check their mobile phones once in every half an hour and 34 % feel debilitated if they do not carry their phone for long time.
It is believed that the radio waves of the mobile phones affect the brain as well as the other tissues if they are placed very close to the head. In USA, 10,000 new cases of Glioma are diagnosed every year and the excessive use of mobile phones has increased the risk of this tumor by 40%.
Majority of the people use their cell phone while doing other tasks as well like 61% uses while watching TV, 37% while attending party, 36% while eating in a restaurant, 32% while driving a car and 8% while in movie.
Studies have shown that cordless phones, mobile phones and microwave can lead to various health problems like memory loss and mental confusion, haemoglobin loss from the blood cells, skin rashes, joint pains, affect the normal functioning of the sensory organs, damage to nervous system and others.
 (Click on the Image For Full View)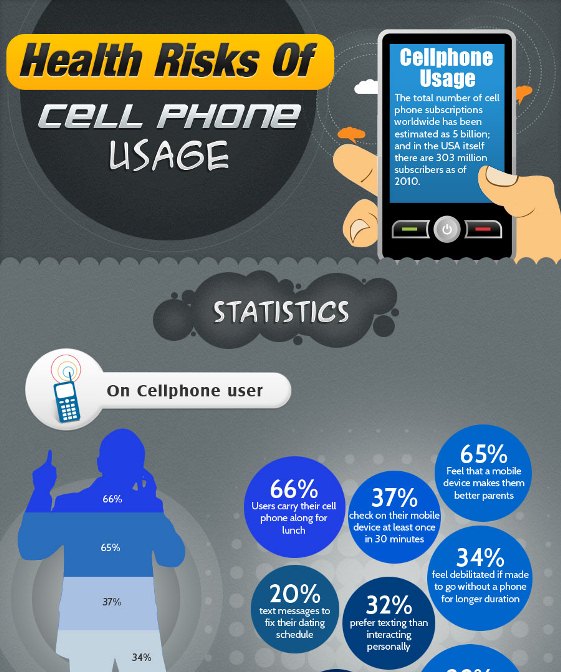 Source: mobilephone
Related posts: