Mobile commerce is clearly the primary trending technology for businesses of all sizes today. In 2012 there were $12.8 billion in mobile transactions in the U.S., by 2017 that number will be at $90 billion. That's a 48% compound annual growth rate over five years! Yet only 66% of small businesses use any type of mobile technology, let alone devices and software related to commerce.
The majority of small businesses are missing a great opportunity to expand their revenue and grow their business. What's the cause for this? According to a recent poll the top reason is simply that customers are not asking for mobile commerce options. This excuse sounds logical until you think about it. How often do you ask a business to adopt new technology? For me the answer is never. I would just shop elsewhere at the business that allows me to pay by phone.
The second highest reason given was a lack of knowledge about how to use mobile commerce solutions. Now this seems like a legitimate issue. There are so many products out there, and who knows which ones are actually providing a quality service? Yet, as a business owner, you can't allow this to get in the way of implementing mobile commerce technology. The health of your business depends on it!
How can you change course, and start to the lead your business down this new path? Read the infographic below from Moblized, "Mobile Payment Hacks for Business." This will get you pointed in the right direction and when it comes to taking advantage of mobile commerce opportunities for your business.
 (Click on the Image For Full View)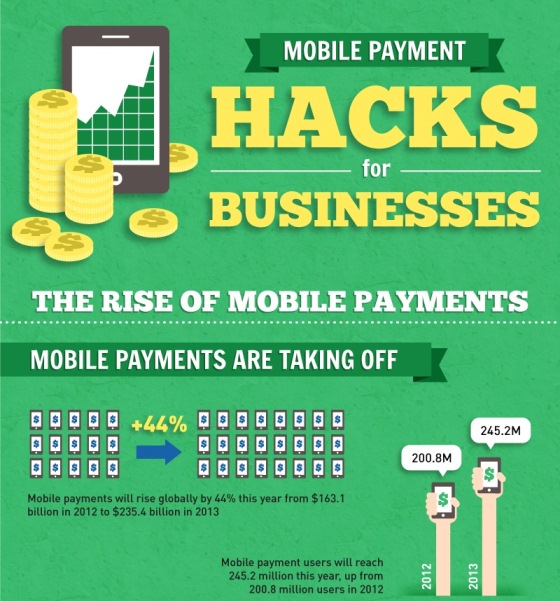 Source: moblized
Related posts: