BYOD, or Bring Your Own Device, programs are growing in popularity in offices around the country. In fact, anywhere from 40 to 75 percent of companies are implementing BYOD programs. While these programs allow companies to save money on technology expenses and let employees use their own devices and preferred 4G LTE network providers, they also bring new challenges.
The biggest issue is security. Fewer than one in four BYOD devices can be wiped remotely. That means if a device were to fall into the wrong hands, sensitive company information might be available for the taking, and there's nothing anyone can do about it. Downloading mobile device management software can let employees remotely lock their phones and even remotely wipe their phones if necessary.
Second, many employees and companies aren't on the same page when it comes to BYOD policies. One survey showed that 17.7 percent of respondents take their own mobile devices to work, but their IT department doesn't know about it. Companies need to come up with a detailed BYOD policy that covers what apps it allows on devices and which smartphones are acceptable, like the LG V20 from a reliable carrier like T-Mobile.
Finally, employees need reassurance that although they have the same device for work and personal use, their personal data will stay private. Therefore, the BYOD policy should also cover when the company can view personal data, if personal data will get wiped when company data does, and how much notice employees get before wiping data. Keep reading to learn more about overcoming the challenges of BYOD.
(Click on the image for full view)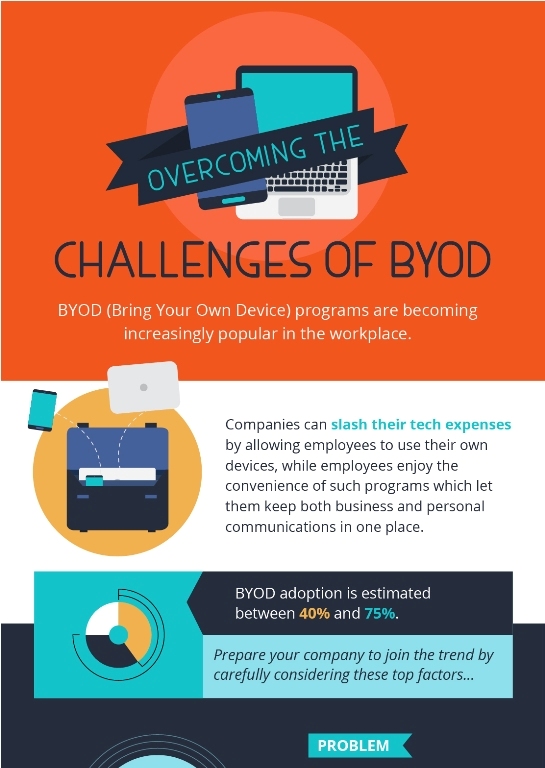 Source:
Related posts: