There are various plug-in in WordPress and the list of the most popular ones are given in the below given part of the article.
All in One SEO Pack is one of the most popular plug-in that helps to automatically optimize the WordPress blog for the search engines. The plug-in has 25 active versions and total downloads of 12,961,008. Akismet has 8 active versions and this plug-in has been rated 4 out of 5 stars.
Another name in the list is Word Press Importer that helps to import the posts, custom fields, comments, tags, and others from a WordPress export file. It has 6 active versions with total  downloads of 3,549,379. The WP-PageNavi plug-in has 10 active versions and has been rated 4 out of 5 stars.
Another popular plug-in is TinyMCE Advanced that has 10 active versions with total downloads of 1,938,183. It has been rated as 3.8 out of 5 stars. Yet Another Related Posts Plug-in is also very popular and it helps to give you list of posts and pages which are related to the current entry. It has 21 active versions and has been rated 3.7 out of 5 stars.
Besides these other popular plugins are Sociable, Really Simple CAPTCHA, WP eCommerce, WP To Twitter, AddThis, Broken Link Checker and others.
 (Click on the Image For Full View)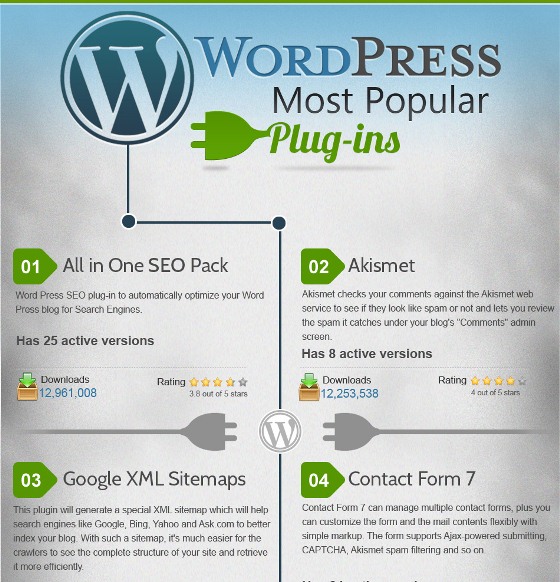 Source: wptemplate
Related posts: