The Maldives is one of the world's most important scuba diving destinations, mainly because of the sheer abundance of white sandy beaches, impressive coral reefs, good weather on average and rich marine life including whale sharks, eagle rays, manta rays, moray eels and hammerheads.
Moreover, the islands offer different typology of dives – thila, kandu and lagoon – recommended for different levels of expertise. This brand new graphic brings you a wide range of facts and figures on diving in the Maldives, from the best spots to famous shipwrecks, visibility and weather conditions throughout the different seasons or basic equipment to take underwater.
Additionally, you will find information on the different marine species that inhabit the waters of the Indian Ocean, the average time that takes to fly from the United Kingdom to Male Airport, the meaning of the word scuba and even what luminaries such as sir David Attenborough think about diving.
Find out what to expect when night diving, how tall is the highest point in these low rise archipelago, what tour operator can take you there at the best rates and which resorts offer scuba diving cruise holidays that take you to many dive sites all over the islands.
(Click on the image for full view)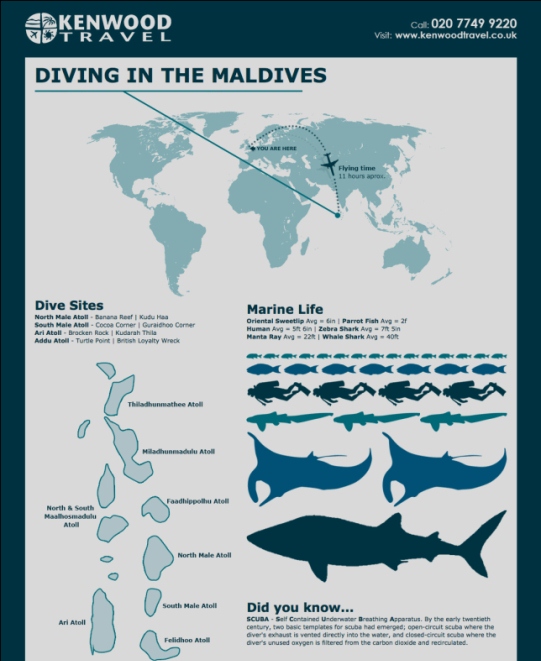 Source: kenwoodtravel
Related posts: