If you are visiting the UK for holidays, visit friends and relatives or business, using the local SIM in the UK will always be the affordable option for tourist.
Here's guideline on how to avoid international roaming expensive charges when you are visiting to the UK.
Let's take a look into the charges you may have to pay when using your home country SIM in the UK…
It may surprise you to hear that even simple voice calls can cost up to £1.06 a minute when calling home. Data charges could be as high as £5.63/mb.
For business travelers, the daily cost of international roaming costs could add up to around £83 per day, whereas for the tourists it could be up to £84 per day.  Some carriers may charge you, even if you do not accept the call!
To slash down these high international roaming costs in the UK, you can pick up new UK local SIM card. Local UK SIM will save you from to pay extra international roaming costs. It will be advisable for frequent business travelers, as well as tourists.
Use of a local UK SIM, the charges would reduce. Data usage costs would only come to £0.04 and if you are calling to your home country, it would cost approximately £0.20. On average, the typical businessman's total daily cost would be just £2 with the huge savings of £81, and the tourist's total daily cost would also be around £2 with the amazing savings of £82.
We all love a good saving, don't we?
(Click on the image for Full View)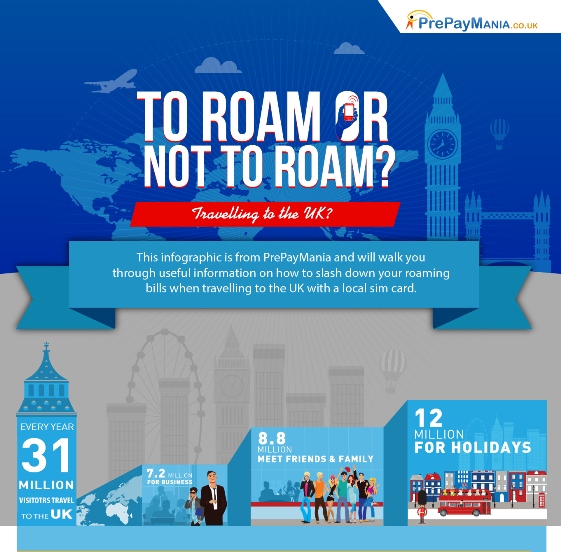 Source: prepaymania
Related posts: