Most often designers are unable to battle with the rising need of impeccable email design template. Most marketers today are expanding efforts on spick and span email campaign that attracts a lot of opens and clickthroughs. It is difficult to capture the audience's attention unless the design is really attractive. Design can be attractive only when it follows the design best practices.
Email & Newsletter Design Best Practices infographic comprises useful information on how well one can design an email. The main topics covered within this infographic include the Mobile Email Design Considerations, Important factors to consider while creating Header and Pre-header, Email Body, Content, Footer etc. Email Monks hope that this infographic will be of utmost use to the Email communities from around the world.
Infographic is backed up by a printable and downloadable checklist for the email design best practices. Designers engaged in hardcore email designing can use this checklist and incorporate the listed best practices in their day to day work. This checklist is one pager and can be easily accessed on www.emailmonks.com/checklist.pdf
Email Monks is setting up an industry milestone through fastest Email Template Conversion service that converts design to Email HTML in as less as 8 hours. Some other key offerings include: 100% Money Back Guarantee, Cost effective packages starting @ $45, Satisfying quality.
(Click on the Image For Full View)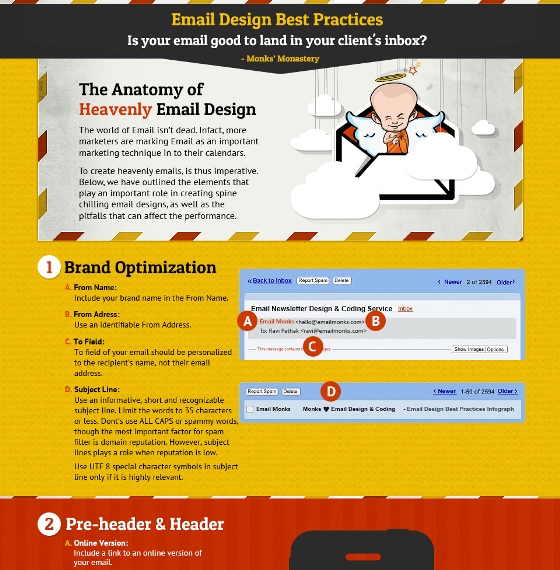 Source: emailmonks
Related posts: