Everybody loves weddings. The chance to be reunited with estranged friends and relatives, eat free food, drink free booze, and possibly witness other people make a fool of themselves whether on the dance floor or during that customary cringe-inducing toast are just some of the many fun perks that goes with a wedding invite. Indeed, it is not easy to pass up on a matrimonial dive especially if you are not the one about to say the I do.
And, even more so when the couple about to tie the knot belongs to one of these stereotypes: rednecks, hipsters, gamers, sports fans, non-conformists, and gangsters. In this infographic entitled 6 Stereotypical American Weddings, Brilliance.com dishes out just what to expect when one is set to embark on any of these adventures.
But of course, it should come us a warning that everything here is rendered with a tongue-and-cheek and over-the-top treatment. This infographic does not claim to be a touchstone for modern sociology, although, it can aptly be given enough credits in the humor department. Needless to say, 6 Stereotypical American Weddings is meant to inspire laughter or a smirk at least, and not to trigger some kind of a cultural or social enlightenment or renaissance.
Aside from its fun text replete with pop culture references and less-than-pop allusions, this infographic also boasts of a quirky imagery that is hard to miss. Think manga and Pixar tying the knot, sharing a wild honeymoon somewhere in the Caribbean, and finally spawning hybrid cartoon figures that are on the league of their own.
(Click on the Image For Full View)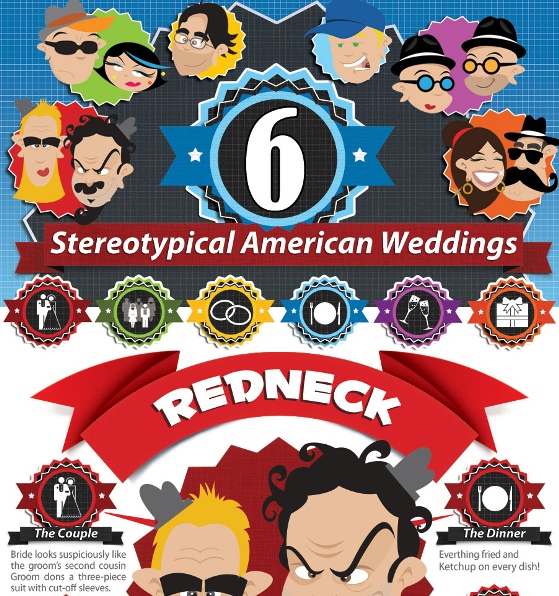 Source: brilliance
Related posts: