A Teacher's worth Around the World
Around the world, most people agree that educating our children is important for our countries and our future. However, as budget cuts loom over the heads of everyone who takes money from the government, debates emerge over how much teachers should be paid, and how much work they do.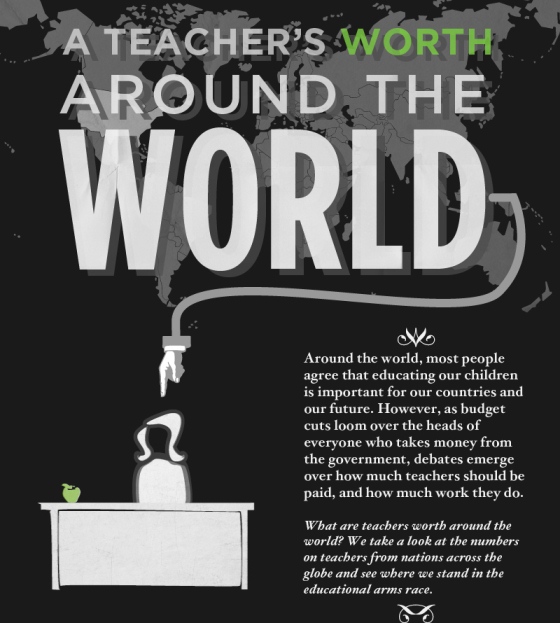 Source: master-degree-online
The State of Digital Education
Vastly improved technology and increased student frop out rates have set the stage for disruption. 30% of students in the U.S. fail out of high school, 33% of U.S. college students require remediation and 46% of U.S. college students do not graduate.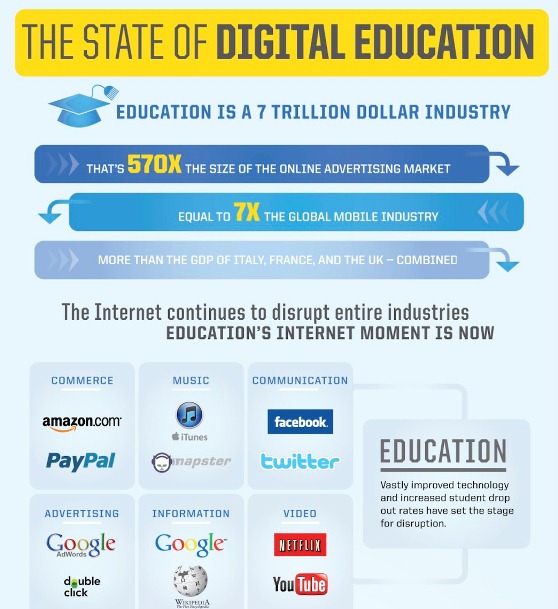 Source: flvs
How Far Students will go to get Rid of Textbooks—and Why
73% of college students would go to drastic measures to avoid carrying another heavy textbook including giving up dating or sex! 24% of students say they carry atleast 20 pounds of textbooks on a typical day.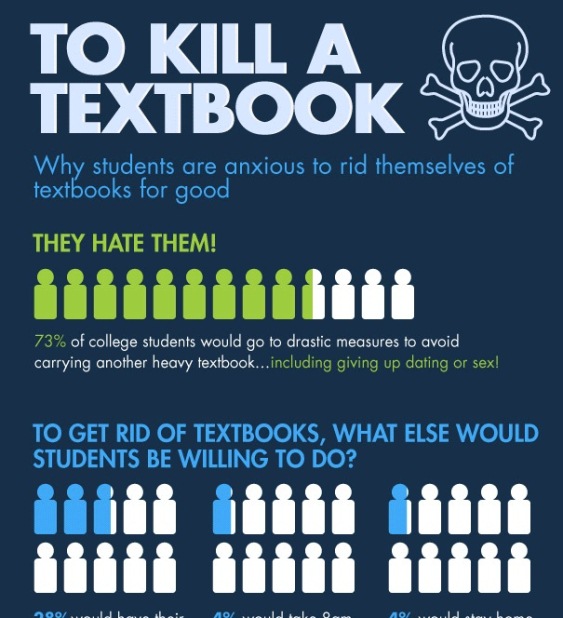 Source: schools
Student Finances: Today's Students are Poor, Yet Optimistic
A recent study shows that today's students worry about having enough money to make it through the week. Many have seen a parent lose a job during the last school year. Yet young people are overwhelmingly confident they will find a career that will bring them happiness.
Source: schools
The Rise of eReading: are Books Going to become an Endangered Species?
More and more people are going digital 43% of Americans 16 and older read an e-book or other long-form digital content in 2011. This includes magazines, journals, news articles, etc. in digital format on not only e-readers but also tablets and cell phones. In America, ownership of e-book readers (only e-readers, not including tablets, etc.) nearly doubled in just one month.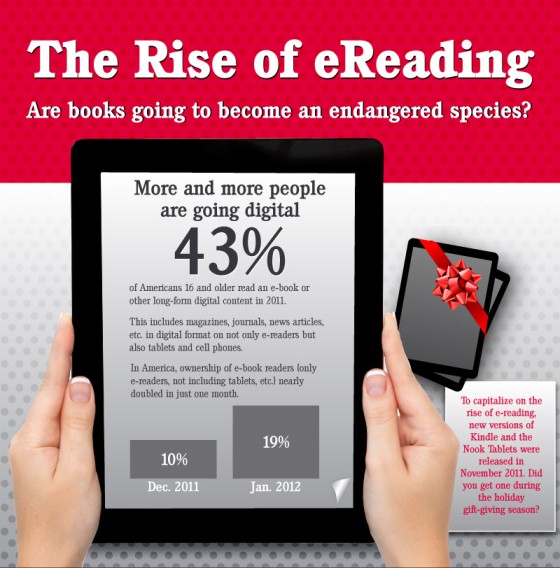 Source: schools
College in America
School should be fun right? Well, for the 21st century college student, many studies point out they are having a lot of fun and probably paying a hell of a lot more than you did years ago. A hundred grand for an ivy league-caliber winemaking degree? It may turn you off but sure enough there are plenty of kids walking down the aisle with one of those in hand. But that's just the tip of the iceberg when it comes to America's colleges. Here is a collection of data that points out the truly interesting facets of what we call the American collegiate experience.
Source: payscale
The Price of College
Every year millions of students pack their bags and head off in pursuit of higher knowledge and the unique experiences of "college life." What they take away from this experience can be measured in wisdom, course credits and very likely a lot of debt.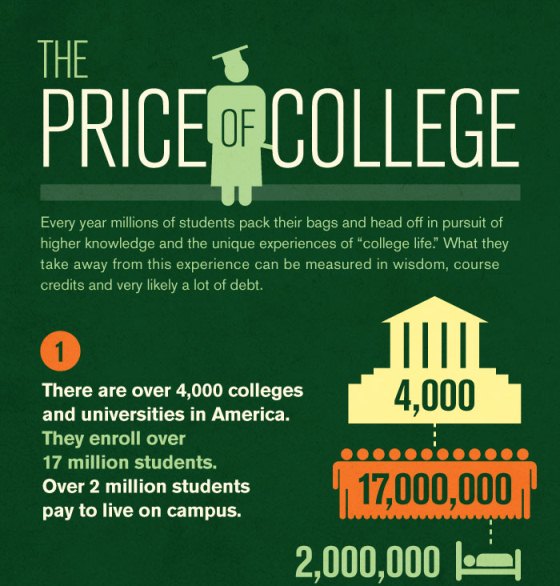 Source: onlineschools
What Degree Should You Get?
You're about to start college and one of the biggest decisions you'll make is what degree should you attain? With the rising cost of college, it's important to look carefully at the various degree programs, determine if it's worth the cost based on the expected return from the career path which started from your degree of choice.
Source: onlineschools
A Master's Degree: Is it worth it?
Number of degrees conferred, percentage distribution, and percentage of degrees conferred to women, by type of degree and racial/ethnic group.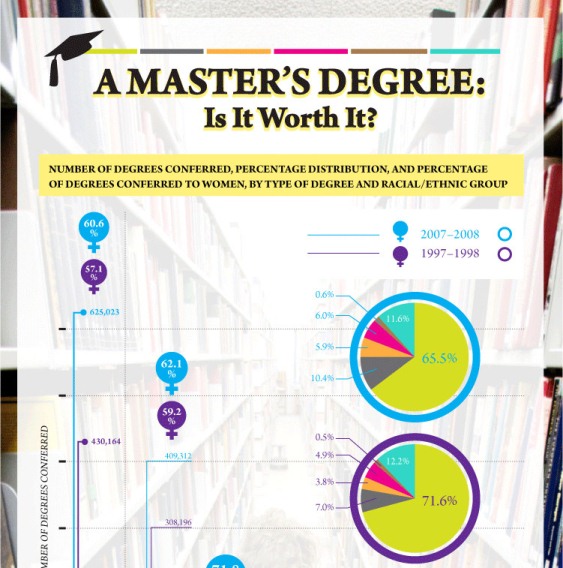 Source: mastersdegreeonline
The Rising Cost of Higher Education
Attending a college or university represents a significant investment for families. Tuition fees have continued to rise which has made it increasingly difficult for families to accurately budget and save. This problem is exacerbated for low and middle-income families where tuition fees as a percentage of median family income has increased significantly.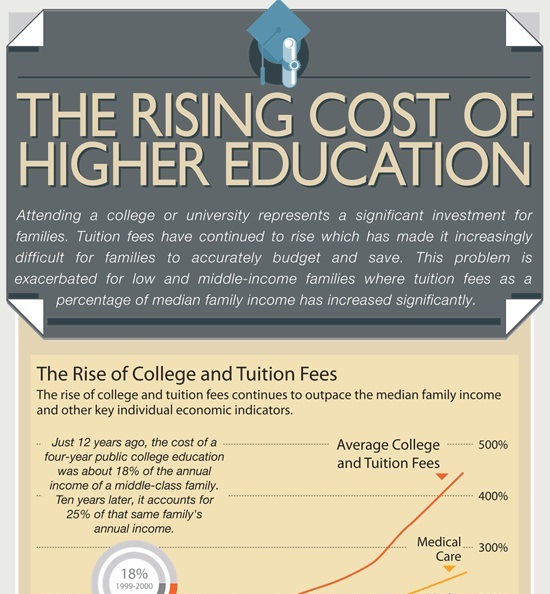 Source: schooltutoring
Related posts: