Have you ever considered starting a career as a nurse, but have been worried that you might get tired of the routine?  Well, there may be more options than you think.  Reality TV shows, like The Biggest Loser and Survivor, keep a team of medical staff to care for contestants as well as hundreds of other staff members.
Most people have had at least some exposure to the reality TV phenomenon, but we don't generally give much thought to the staff behind the scenes.  Yet, shows like Survivor and The Biggest Loser employ medical staff, some of whom are on call 24/7 during filming.
Survivor employs three doctors, three nurses and three paramedics who are in charge of the medical care for 400 staff members, 16-20 contestants as well as local staff and villages.  Check out this infographic, brought to you by nursingdegree.org, to find out more about medical staff behind the scenes.  If a myriad of human affliction streaming into hospitals just isn't exciting enough, maybe reality TV nursing is the way to go.
(Click on the Image For Full View)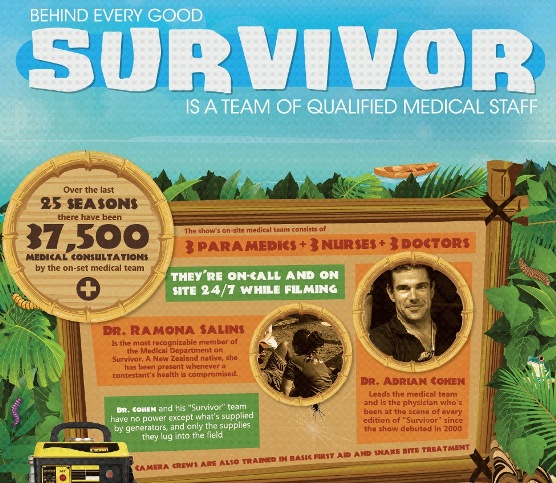 Source: http://nursingdegrees
Related posts: