These days, the cappuccino is one of the most preferred coffee drink of a lot of people from all over the world. This type of coffee drink actually contains less milk as compared to a latter yet it also carries a stronger espresso favor along with an amazing texture.
This type of coffee can only be prepared by professionals. This is because perfecting this coffee will require skills, knowledge as well as attentiveness. The most critical part of preparing a cappuccino is the frothing of the foam. Its foam must be made velvety while the milk is still steaming. This is where the baristas of Starbucks are very well known at. They have undergone various training and continuous learning to ensure that they will be able to cultivate the knowledge and skill they need to prepare perfect drinks that you can enjoy.
Starbucks is an advocate of good service and this is what customers from all over the world keeps coming back to us for. Other than that, the high quality caffeine and non-caffeine drinks are also some things that you will surely crave for. This is the reason why you will be able to find Starbucks coffee in different corners of the world such as USA, Australia, Asia and even, Europe.
Cappuccino, being one Starbuck's best sellers, is made available for all the stores and branches of Starbucks in different countries. Because of this, its price may vary from one country to the other. This is because th price depends on the economical state as well as categories of such countries. For better understanding, take a look at this infographic.
(Click on the image for Full View)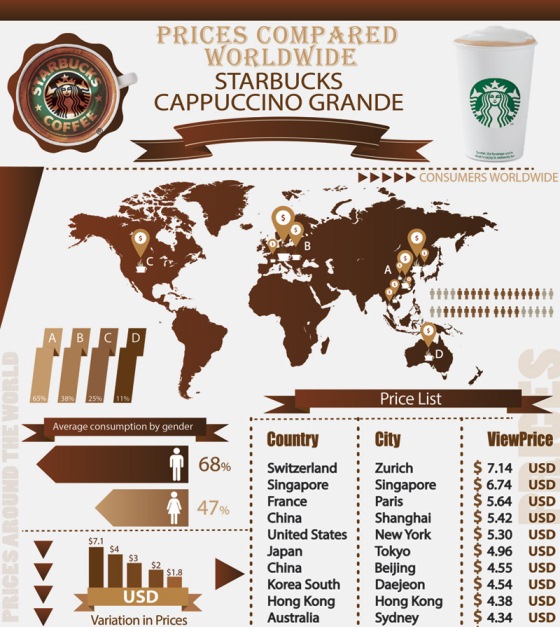 Source: chefneeds
Related posts: