Every now and then people like to play games. If these games allow them to earn some money – even better. And so visiting a casino, live or online, becomes an event of having fun and some challenge, a chance to get extra money in the pocket, and, who knows, maybe become a millionaire.
Ones of the most popular casino games are roulette and blackjack. While roulette is more a game of the luck, blackjack requires certain skills and strategy. These two games are definitely worth trying as they bring a lot of joy and are fun to play.
The infographic contains lots of information, both useful and entertaining, for the players or those who consider trying their forces in blackjack or roulette. Tables with roulette bet odds and blackjack basic strategy can be helpful for potential players as well as some tips and advices for successful game. On the other hand, it is also exciting to read fun facts about roulette and blackjack, stories about incredible winnings; find out what's the Top-5 of the classic blackjack books or the Top-6 of the movies with these games' scenes.
(Click on the Image For Full View)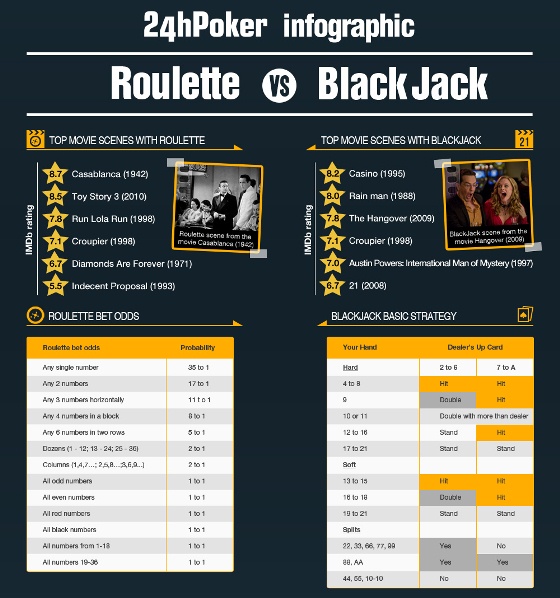 Source: 24hpoker
Related posts: