As one of the country's smallest states geographically with a population of about 3.6 million, Connecticut needs only four area codes. Like most states, it received its first area code (203) in 1947 when experts from several companies and organizations created the numerical phone system that is now in use for the United States and Canada.
Connecticut didn't need another area code until August of 1995, when it acquired 860 to cover the state's southeastern area, including cities like Bristol, Hartford, and Manchester. At the time, 203 still applied to the rest of the state.
As Connecticut's population grew, regulators realized that they needed to add a new area code so people could have unique phone numbers. Because of population changes around the state, 203 now covers only Fairfield, New Haven, and Litchfield Counties.
Connecticut received the 475 area code in December of 2009 to cover southwestern cities like Bridgeport and Greenwich.
Beginning in 2008, Connecticut's population went into decline. Tens of thousands of people have left the state since then. Between 2013 and 2014, Connecticut lost 0.73 percent of its population. Since the population was getting smaller, the state didn't need to add another area code (959) until August of 2014.
You can learn more about the evolution of Connecticut's area code system by visiting this infographic from CheckThem.com. It may not seem like the most interesting subject in the world, but area codes become fascinating when you take a closer look at when and why they were created.
(Click on the image for full view)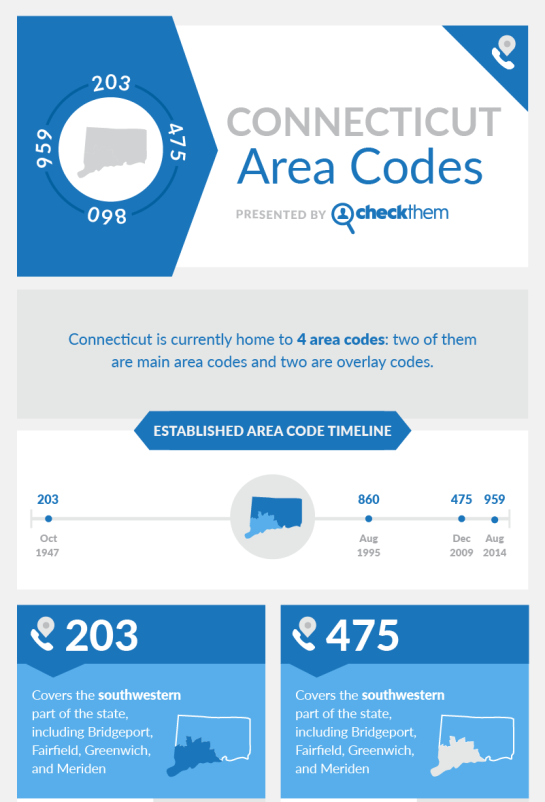 Related posts: