For this infographic we looked at how many people suffer fatal injuries in the workplace. This study was split into two parts concentrating one which profession types cause the most and in which geographic areas.
The work sectors are Agriculture, Services (Fire, rail etc), Electricity & Gas Supply, Construction and Water, sewage& recycling. Construction was the worse offender of these areas. This is usually due to the fact that the most common Industrial Accident is from falling from a height. Services were close behind and not because of the obvious. In the UK not many fire or police officers die on duty, one of the most common deaths on the job is on the train lines. In other countries this wouldn't be the case as a higher number of police die due to increased crime rates and gun use.
We broke Britain into areas and showed the fatal accident rate in each. The areas were North West, North East, Yorkshire, West Midlands, East Midlands, East, South West, South East of England, London, Wales and Scotland. The area with the highest rate is the North West of England. This will partly be due to the industrial nature of the area but also its population.
 (Click on the image for Full View)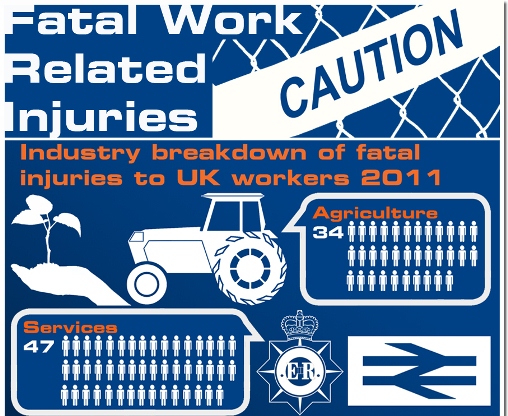 Source: Atrium Legal
Related posts: