"Downsizing can be a sensible and positive move for many homeowners. As well as freeing those with larger properties from the responsibilities of high monthly outgoings and extensive upkeep, it can also release equity.
What's more, the process of finding a new home and making it your own represents a great opportunity to start afresh and even discover a new part of the world. Here are four main points to consider if you're thinking about making the move:
1. Doing your research
Because downsizing is a big decision, it's important to look at your finances both in terms of the price of your future home and the profit you're likely to make on your current property. While opting for a smaller place should earn you a healthy lump sum, there are a couple of things to bear inmind when you come to sell such as estate agent fees, conveyancing and stamp duty which can all be costly so factor them in early on to avoid unexpected outgoings.
2. Finding your perfect home
A lot of downsizers move to be nearer their children and extended family, while others are looking for a change of scene and the new lease of life that moving home provides – whatever the reason, the area that you choose has to be right for you.
3. Making the move smooth
When it comes to downsizing, a big deterrent for a lot of people is the prospect of decluttering. When you've lived somewhere for a long time you're likely to have amassed a lot of things. Attempting to sort through and throw out all of those belongings seems so daunting that it feels easier to bury your head in the sand. But sifting through it all can be a refreshing, cathartic process that will free up space and make the whole moving process a lot easier.
4. Making it work for you
The biggest worry a lot of people have when downsizing is that they're at risk of losing their independence by leaving the family home – but that couldn't be further from the truth. A lot of those who move to retirement villages did so precisely because they were looking for a greater degree of independence. With on-site facilities such as restaurants, bars and gyms, there's an active social scene, and plenty to do with friends and family when they come to stay
Are you Thinking big for your retirement plan?
"Living in the family home once your children have flown the nest can be both a blessing a curse, more of us than ever are now looking to relocate into a smaller property (aka downsizing). Many over-55s are experiencing a seismic lifestyle shift, with the prospect of travel and other enjoyable experiences becoming a reality as a result of raising funds from existing property.
If you're one of the 55% of UK property owners who plan to sell up and size down then this infographic about downsizing 'Think big, live small' is well worth a look. The graphic, designed by Audley Retirement takes a look at how over-55s today are living and planning to live in the future – what are we spending time, energy and money on in retirement? Hint: It isn't wildlife, but for some it just might be a safari.
Audley offers luxury retirement properties giving those who want to travel the opportunity to do so and those who love to dine well the opportunity to do so in their own luxury building complex. These high-spec villages are closer than you think and contain fine dining, spa and gym facilities – Audley villages are dotted up and down the UK, apartments all nestled within beautiful and historic surroundings.
"I knew who I was this morning but I've changed a few times since then"
If you have a keen eye for art, you may also spot some well-known references in this data visualisation. Just like Alice in Lewis Caroll's famous novel, many of us grow into and then out of our own houses. Finding the right property at the right moment in time can be the magical solution, whether planned for (by just 20% of us) or as a result of 'falling in love' with a new property."
(Click on the image for full view)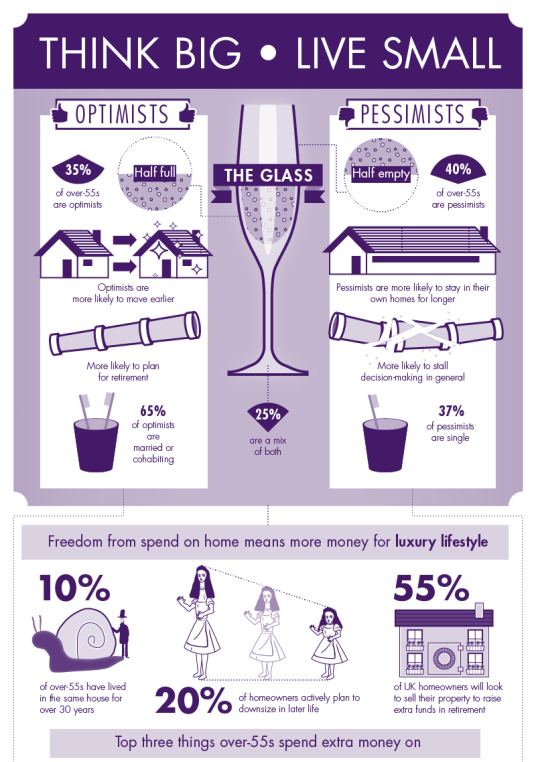 Source: Audley Retirement Property
Related posts: