Every candle lover knows that there's more to choosing the perfect candle than its size, shape, scent and colour.
The burn time is absolutely essential to choosing the perfect candle and Melt candles understand the importance of this.
Melt Candles, a creator of hand-made candles, presents this info-graphic, highlighting the elements of desirable features when it comes to candles.
The following info-graphic displays their selection of beautiful hand poured candles, displaying their price and size in relation to burn time.
Melt Candles produces exquisitely fragranced, scented candles using quality wax, available in a range of sizes and available in over 30 fragrances, meaning there's one to appeal to everyone and every occasion.
We hope this information will help you make an informed decision about your next luxury scented candle.
(Click on the Image For Full View)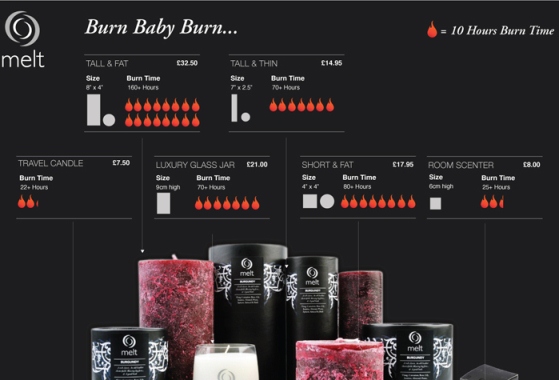 Source: themeltco
Related posts: