Do you consider yourself a bit of a wheeler dealer when it comes to mobile phone contracts? A bit of a mobile adventurer? To you, the mobile landscape is easy to navigate and you can resist the persuasive powers of sales assistants and truly understand the contact you are getting yourself into for 12, 18 or 24 months.
Did you know that 24% of iPhone users have to deal with the annoyance of a cracked screen? What about the amount text messages VS data you use every month? Would you rather pay upfront for your phone or sign up to a 2 year contact? Did you know that getting a loan and buying your handset up front rather than getting a contact could save you around £150 on an iPhone?
Well, giffgaff would like to put your savvy to the test with their Ultimate Mobile Adventurer challenge. Answer a few simple questions and follow the arrows to discover your ultimate score and reveal if you are a mighty mobile adventurer capable of surviving even the harshest of mobile landscapes, a journeyman with your wits about you but not quite the acumen to become a true hero or, sadly, an annoying sidekick who aspires to be a real adventurer but your limited knowledge keeps you as a sidekick.
(Click on the image for full view)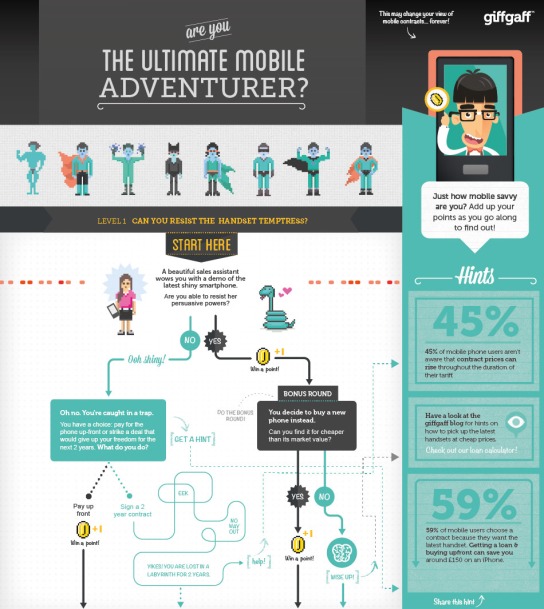 Source: giffgaff.com
Related posts: