For years now, many of those in the insurance industry have been pushing for adjustments in the law to change the way that injury lawyers are compensated for their work during personal cases. On 1 April 2013, a great number of changes occurred.
One of the positive effects for personal injury claimants is they will no longer be made responsible for the legal fees of the person or company against whom the claim has been made, in the event that the claim is unsuccessful.
The person making the personal injury claim was entitled to insurance to guard against the risk of paying legal costs, and although the personal injury lawyer will in most cases be working on a no win, no fee basis, the insurance covers the cost of bringing the case to court, in addition to experts' fees. The premium was paid by the claimant in the event of a successful claim, but is usually waived by the insurers in the event of an unsuccessful case.
However, with the changes in the law, those making personal injury claims will no longer be entitled to recover insurance for many of these costs and will therefore – in the event of an unsuccessful case – only be entitled to insurance in some very limited cases, such as those concerned with medical negligence.
This means that the unsuccessful claimant will now be liable for experts' fees, as well as court fees and a host of other expenses. Indeed, medical reports can cost thousands upon thousands of pounds that most of those claiming will simply not have available.
This infographic, created by Express Solicitors, provides more information on how the changes in the law will affect those injured in an accident that was not their fault.
(Click on the image for Full View)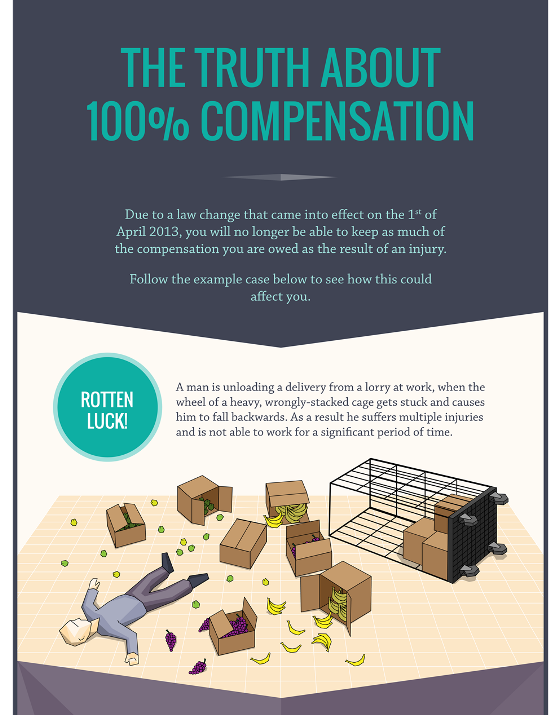 Source: expresssolicitors
Related posts: