One of the most common and dangerous hazards on roadways is driving while distracted. Distracted driving is defined as an action that takes a drivers attention away from operating a vehicle.
Distracted driving negatively affects a person's ability to safely drive their vehicle.  The safe operation of driving your car or truck is a primary responsibility.
Distracted driving not only puts the distracted driver in danger, but it also puts everyone else on the roadways in grave danger.  Drivers must not allow any form of distracted driving to put them or others in harm's way.   Some safety tips to help prevent distracted driving accidents are:
Buckle up
Allow voice mail to take your calls and return the call later
Turn your phone off before driving
Never look up numbers while driving
Do no engage in emotional conversations while driving
Ask one of your passengers to take a call for you
Keep your hands of the wheel and eyes on the road at all times
Distracted driving reduces individuals attentiveness to their driving, their decision making process, and their all-around driving performance.  This distracted driving infographic presents important facts and statistics proving just how dangerous distracted driving is.
(Click on the image for full view)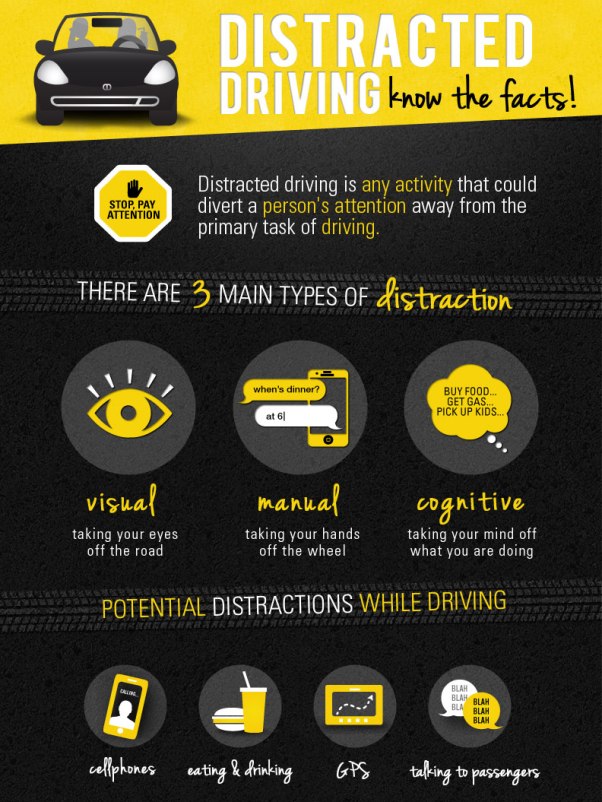 Source: distracteddriveraccidents
Related posts: