Edinburgh is the historically beautiful capital of Scotland situated in the south east of the green and pleasant country. It is Scotland's largest city by area and filled with endless sights to see: The New Parliament, holding 129 members known as the Members of the Scottish Parliament (MSPs), located in the Holyrood area of Edinburgh, Edinburgh Castle, which has been lived in since the 9th century, positioned on top of the volcanic Castle Rock, looking over the city.
Edinburgh is also host to the world famous Edinburgh Festivals, which sell over 2.5 million tickets in total, and doubles the city's population in size, from 500,000 to 1 million people. These have begun the career of many famous comedians that we've grown to know and love, for example Stephen Fry, Hugh Laurie, Eddie Izzard, Jude Law.
The first Harry Potter book was read to a group of 20 children by an unknown J K Rowling at the Edinburgh Book Festival. As such a culturally rich city it was easy for My Destination Edinburgh to create an infographic containing such amazing facts. Being the birthplace of golf, Edinburgh is also home to 78 good quality golf courses, hence we intertwined a timeline of golf into the following Edinburgh-based infographic.
(Click on the Image For Full View)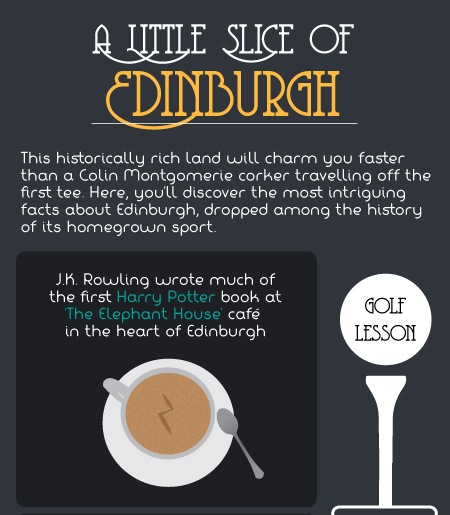 Source: mydestination
Related posts: